| | |
| --- | --- |
| | Island Mele |
---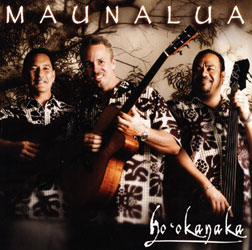 "Ho'okanaka"
Maunalua
(Lokahi)
Maunalua -- "Uncle Bobby" Moderow Jr., Bruce Spencer and Kahi Kaonohi -- follow their 2004 Na Hoku Hanohano Award-winning album, "Kuleana," with this beautiful collection of Hawaiian and hapa-haole standards. Traditionalists will applaud the trio's commitment to preserving and perpetuating the unique music of Hawaii, and applaud as well the guys' success in finding fresh yet appropriate approaches to these classics.
They introduce themselves with an imaginative arrangement of "Koke'e" that shows off their strengths as musicians and vocalists without borrowing from other artists' versions. Moderow contributes as a composer with "Two Shadows," a contemporary hapa-haole love song that segues into "Ku'u Lei Awapuhi." The medley showcases their falsetto harmonies in fine style.
Moderow is well known for his commanding falsetto, but several ear-catching selections here provide variety by featuring Kaonohi or Spencer on lead vocals. Kaonohi has the lead spot on "Kalama'ula," and his voice is one of the things that gives fresh feel to this oft-recorded song.
Spencer plays a key role elsewhere as he trades guitar solos with Moderow on "Maile Lau Li'ili'i" and steps forward to make "E Maliu Mai" one of the highlights in an excellent album.
Moderow displays another side of his vocal repertoire by singing tenor rather than falsetto on "Endless Miles," a song that expresses the desire of many Oahu residents to get away from urban gridlock.
---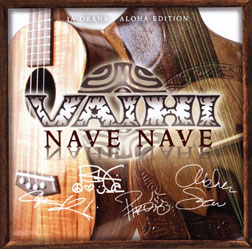 "Nave Nave"
Vaihi
(Vaihi Entertainment)
Vaihi occupies a unique place in Hawaii as a multifaceted Polynesian quartet with strong Tahitian roots and a feel for soulful American pop. It's not surprising that their "Hawaiian album" includes several contemporary Tahitian songs. A smooth arrangement of a pop standard, "A Nightingale Sang in Berkeley Square," featuring Vaihi's "Braddah Sam" Langi Jr. on lead vocals, and instrumental support from guest musicians Steve Jones and Herb Ohta Jr. fits nicely as well.
Vaihi succeeds in presenting a cross-cultural potpourri, but several Hawaiian songs stand out. Vaihi's "Lae Lae Medley" establishes the theme with three Hawaiian-language standards, and "Hawaii '78" adds a contemporary nationalist call for ku'e (resistance) to ceaseless development that is as timely now as it was in 1978. "Koke'e" and "Nanu Wae'ale'ale" honor tradition with well-crafted original arrangements. "Sweet," a Bill Kaiwa tune recorded here with a string quartet, is memorable as well.
---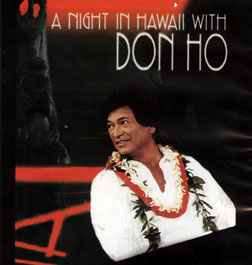 "A Night in Hawaii
with Don Ho"
Don Ho & The Aliis
(Honey)
The reunion of Don Ho and all five of the original Aliis for a show at the Hilton Hawaiian Village Dome in 1988 was one of the biggest events of the decade in local music. It was the first time in 19 years that all five original Aliis had performed with Ho, and a capacity crowd of 1,200 discovered that old musical magic was still intact. The show was taped for release on videotape, and now has been reissued on DVD.
The set list was representative of what Ho and the Aliis played at Duke Kahanamoku's in the mid-1960s -- pop hits, hapa-haole standards and the compositions of Kui Lee. Ho shared the spotlight with two old-timers, Robin Wilson Graham and Vicki Burton O'Gara, welcomed Nina Keali'iwahamana Rapoza as his partner on "The Hawaiian Wedding Song" and gave Aliis pianist-arranger Joe Mundo the lead on "Hang on Sloopy."
Mundo's quick wit registered elsewhere. At one point Ho asked what key they'd be playing in and Mundo replied "F, as in love." Later in the show he can heard calling out good-naturedly, "Don, look at the lyrics!" when Ho needed prompting. It was just like old times.
Whether on VHS or DVD, this is an essential part of any Don Ho & The Aliis collection -- they all look so young! -- even though record producer Sonny Burke did a better overall job with the two "live" albums he recorded at Duke's in 1965. For instance, "A Night in Hawaii" starts inexplicably with the show already in progress, and producer-director Mark Williams and tape editor Jesse Hoke spend more time showing unidentified members of the audience than the Aliis. Mundo gets good coverage, and Rudi Aquino is seen clowning with O'Gara, but Al Akana, Benny Chong and Manny Lagodlagod get barely one close-up each. (Among the fans in the crowd are Kirk Matthews, Linda Coble, Cammy Coble Maheras and Freddie Morris.)
A "director's cut" that would give buyers more than the original VHS version would be welcome -- there must be footage somewhere of Ho talking about his days with the Aliis, and all five Aliis are still alive to be interviewed -- but for now this reissue is welcome as is.
John Berger
, who has covered the local entertainment scene since 1972, writes reviews of recordings produced by Hawaii artists. See the Star-Bulletin's Today section on Fridays for the latest reviews. Reach John Berger at
jberger@starbulletin.com
.