Cornerstone of Hotel Street revitalization has birthday
ANNIVERSARY SEASON is in full effect here in Clubland, with a number of local establishments celebrating another year in business.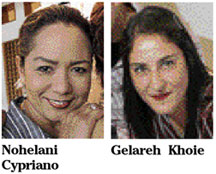 Up first is Chinatown's thirtyninehotel, which celebrates its third birthday on Saturday. Gelareh Khoie and crew are much too modest to admit it, but they undoubtedly helped lay the groundwork for the revitalization of Hotel Street that continues even today.
New York's DJ Nicky Siano will once again make the trip to Honolulu to headline the party, with thirtyninehotel co-founder DJ Harvey and Mark Chittom opening the night. The fun starts at 8 p.m. with a private VIP reception (tickets are available for $20 at www.thirtyninehotel.com), with doors opening to the general public at 10 p.m. ...
BUT BEFORE the big party on Saturday, be sure to check out "Malama Wahine" at thirtyninehotel on Friday.
The night will serve as a benefit for Kapiolani Medical Center's Breast Cancer Prevention Program, with live performances by Jaena and the Girlas between 5 and 10 p.m. Tempo Valley and DJ Azia will take over from 10 p.m. to 2 a.m.
Admission to the fundraiser is $25; 21-and-over welcome. Don't forget to wish promoter Jeanette Mawae a happy birthday if you go -- she turned 21 (yet again!) on Wednesday ...
NEXT WEEK marks the O Lounge's third anniversary, and once again owner Liz Watanabe will combine a party with an opportunity to help those who are less fortunate.
From 5:30 to 8:30 p.m. Thursday, Watanabe will host an evening of live entertainment and complimentary pupus, with proceeds from the $50 tickets benefiting Hawaii International Child. The organization has helped more than 3,000 keiki find new homes via adoption programs both locally and globally since 1975.
"I support the mission of HIC because their work is encouraging the bond between children and their new families," said Watanabe. "That is the foundation for a vibrant community."
Call 944-8436 for more information ...
OTHER VENUES celebrating birthdays: Pearl Ultra Lounge marked its first year in business on Oct. 3 ... I haven't heard anything about a party being planned, but Jazz Minds Art and Cafe celebrates two years of success on Oct. 21 ... And Lotus Soundbar is coming up on its first anniversary next month in Waikiki ...
MORE PICKS: Ooklah the Moc and Mr. 83 headline "Hot Reggae Nights" with Slydah Surf at Thai Sweet Basil on Friday. Cover is $10 for the 21-and-over crowd ... Tempo Valley's Jen "Paisley" Cua celebrates her birthday at Jazz Minds on Saturday with the Spacifics, Creed Chameleon, Taasho Pearce, Aaron "Angry Woebot" Martin and DJs Azia and Fame ... Hawaii's own Makana returns from Los Angeles for a pair of performances at Indigo. He'll play from 8 to 11 p.m. Wednesday and Oct. 24 at the restaurant ...
LOOKING FOR a new spot to enjoy live music on Friday nights? Check out the Pagoda Hotel.
Nohelani Cypriano was hired by the hotel a few months back to book entertainment in the LaSalle Lounge, and she's delivered with performances by Sean Na'auao and Robi Kahakalau, the Ka'ala Boys and Ledward Kaapana in recent weeks. Augie Rey will play this weekend, followed by Melveen Leed on Oct. 19 and 'Ike Pono on Oct. 26.
There is no cover on Fridays at the LaSalle (although a two-drink minimum is in effect), and the Pagoda provides free parking and offers a full pupu menu for its guests. Call 948-8371 for more info ...