---
FAST FACTS HAWAII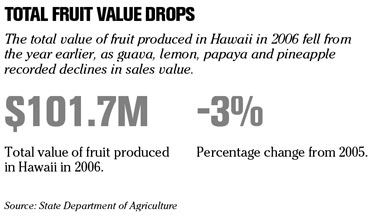 ---
NATION
30-year mortgage rates rise
WASHINGTON » Rates on 30-year, fixed-rate mortgages averaged 6.40 percent this week, up from 6.37 percent last week, according to Freddie Mac, the mortgage company.
In mid-September, the nationwide average for 30-year mortgages had dipped to 6.31 percent, the lowest level since May 17.
Rates on 15-year fixed-rate mortgages averaged 6.06 percent this week, up from 6.03 percent last week. Rates on five-year adjustable rate mortgages averaged 6.12 percent, up from 6.11 percent last week. One-year ARMs averaged 5.73 percent, up from 5.58 percent.
A year ago, 30-year mortgages stood at 6.37 percent, 15-year mortgages were at 6.06 percent, five-year ARMS averaged 6.10 percent and one-year ARMs were at 5.56 percent.
WORLD
Sanyo to sell mobile phone unit
TOKYO »
Sanyo Electric Co.
is in final negotiations to sell its mobile phone operations to Japanese rival
Kyocera Corp.
, the companies said yesterday.
Under the talks, Kyocera has priority negotiating rights to buy the business, and they will work toward an agreement after assessing the value of Sanyo's assets, they said in a joint statement. No price was set, although the Nikkei reported that Kyocera offered 70 billion yen ($597 million).
Sanyo, whose businesses are widespread and include TVs and household appliances, has said it sees its battery and solar operations as its core business. The company's solar unit is a major customer of Hawaii-based Hoku Scientific Inc.
Last year Goldman Sachs Group Inc. and other investors saved Sanyo in a $2.56 billion bailout.
Cell-phone check-in standard set
GENEVA » Major airlines have agreed on a standard that will allow travelers to check in using a bar code sent to their cell phones, the International Air Transport Association said yesterday.
Passengers will register their cell phone number when buying a ticket and receive a bar code by text message, the group representing most commercial carriers said. The group hopes to implement the system by the end of 2010.
Check-in staff will scan the bar code directly from cell phones, doing away with the need for a boarding pass. Alternatively, passengers can also receive the code by e-mail and print it out.
BRIEF CASE
Profitable lifestyle:
Grocery store operator Safeway Inc. said today its third-quarter profit jumped 12 percent due to cost reductions and strong performance from its newly remodeled lifestyle stores.
Holding steady: The Bank of Japan kept its benchmark interest rate steady at 0.5 percent after a two-day policy meeting ended today amid lingering concerns U.S. credit worries may hurt growth in Japan.
Pepsi profits. PepsiCo Inc., the world's second-largest soft drink maker, says its third-quarter profit rose 17 percent on double-digit growth in international sales.
[ HAWAII INC. ]
Board Elections
» The Hawaii Transportation Association has announced its board for 2007-2008:
Glenn Wilbourn
, president;
Darrell Goo
, first vice president;
Ron Victorino
, second vice president;
Lance Hirokawa
, secretary;
George Kahanu
, treasurer;
Dexter Okada
, immediate past president; and
Roger Apana
, state vice president/ATA. Directors at large are
Reginald Maldonado
,
Lek Friel
,
Dean Kapoi
,
Neil Takekawa
,
Kuuhaku Park
,
Jon Savitz
,
Donald Takaki
and
Lawson Teshima
.
» Aloha Pacific Federal Credit Union has elected Stanley M. Inamasu and Joseph M. Magaldi Jr. to its board. Inamasu is a retired chief fiscal analyst for the city and county's budget department and has been involved with the Boy Scouts of America since 1997. Magaldi is a private consultant for transportation and governmental affairs and retired U.S. Marine Corps lieutenant colonel who currently serves as chair of the City & County of Honolulu transportation commission and vice chair of the Civilian Advisory Committee to the Metropolitan Planning Organization.
Awards
»
Energy Industries
was awarded "Technology Company of The Year" by the Pacific Technology Foundation. The award was given to the company based on its track record growth, community service, innovation and future potential. Energy Industries is a national provider and developer of renewable and energy efficiency projects and services.
---
BUSINESS PULSE