---
FAST FACTS HAWAII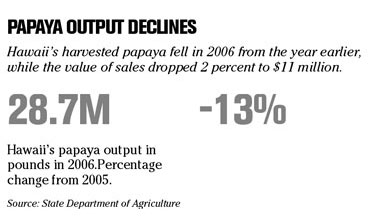 ---
HAWAII
Gentry offers solar-power option
Gentry Homes for the first time is offering Oahu homes equipped with photovoltaic systems, which turn sunlight into electricity.
The systems will be offered as an upgrade option for new homes in the master-planned Ewa by Gentry development.
The systems won't provide all the electricity the homes use, but will allow homeowners to save money on their electric bills, said McKibbin Mist, purchasing and contracts manager of Gentry Construction LLC. They also can be expanded.
"By adding a (photovoltaic) system to their mortgage today, the homeowner can lock their electrical rate for all the electricity their system produces," he said. "Since rates don't go down, they would be locking in future savings."
Maui home prices drop
Maui's single-family home market continued contracting last month as the median price dropped, but the median price paid for condominiums rose to an eight month high, according to statistics released recently by the
Realtors Association of Maui Inc.
More than half of the single-family home buyers in Maui paid $587,504 to purchase their properties last month, a 23.6 percent drop from the year-ago median. The median price paid for a condominium in Maui rose 21.1 percent to $599,000.
There were 74 single-family homes that traded hands last month as compared to 63 in September 2006. Similarly, buyers picked up 78 condominiums in September 2007, a six-unit climb from the year-ago September.
NATION
MGM to build Atlantic City casino
LAS VEGAS »
MGM Mirage Inc.
said yesterday it will spend up to $5 billion to build a massive casino resort whose three towers will dominate the Atlantic City skyline and lift the level of luxury in a city hit hard by competition from slots parlors across the Northeast.
The 3,000-room resort, planned to open in 2012, would offer the largest casino floor in Atlantic City, with 5,000 slot machines, 200 table games and a poker room. Plans also call for a 1,500-seat theater, restaurants, nightclubs, a spa, 500,000 square feet of retail space and a convention center.
BRIEF CASE
Bulk profits.
Shares of Costco Wholesale Corp. soared yesterday after the warehouse club retailer reported a 5 percent jump in its fiscal fourth-quarter earnings, driven by a rebound in same-store sales growth, cost-cutting and a tighter returns policy for electronics.
Net loss. Seed company Monsanto Co. posts a fiscal fourth-quarter loss, weighed down by charges related to its acquisition of cotton company Delta and Pine Land Co.
Spinoff instead. Cadbury Schweppes plans to spin off its U.S. beverage division that includes the Dr Pepper, 7Up and Snapple brands to its shareholders rather than sell it.
---
BUSINESS PULSE