---
FAST FACTS HAWAII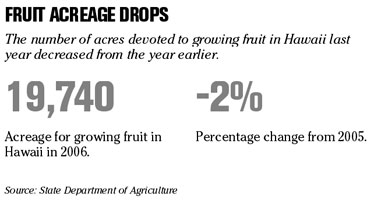 ---
HAWAII
Cowabunga! opens second site
Cowabunga! Computers
opened the doors to a new site at Pearl Kai Shopping Center this week.
It is the Road Runner-approved PC repair company's second location, in addition to its first office on S. Beretania Street in the McCully area.
Yasuo Ogawa, president of Cowabunga!, said the Pearl Kai location will enable the company to provide quicker and faster service, with longer operating hours. The company will also be selling Cowabunga!-branded technology products.
"We are certainly in growth mode right now," said Ogawa. The company, which was founded six years ago, is also in the process of opening its first mainland operations in Cerritos, Calif.
Maintenance pares go! fleet
Mesa Air Group
's go! said yesterday it carried fewer passengers in September than it did a year ago after sending back one of its CRJ-200s to the mainland for maintenance.
Despite one fewer aircraft, go!'s load factor, or percentage of seats filled, remained flat at 66.7 percent compared with 66.1 percent a year earlier. Go! carried 52,552 passengers, down 14.7 percent from 61,634 in September 2006.
Go!'s available seat miles -- one seat transported one mile -- decreased 15 percent to 11.2 million from 13.2 million, while its revenue seat miles, or the total miles flown by paying passengers, decreased 13.9 percent to 7.5 million from 8.7 million.
Hoku factory unit to cut costs
Hoku Scientific Inc.
, the Kapolei-based alternative energy company, has hired
Dynamic Engineering Inc.
to design a unit that will cut production costs at the polysilicon plant that Hoku is building in Pocatello, Idaho.
The unit will let Hoku produce its own trichlorosilane, a chemical used to make polysilicon, at the factory site rather than purchasing it, Hoku said.
Hoku plans to supply polysilicon to makers of solar-power cells. The company said it will pay Dynamic Engineering, based in Sturgis, Mich., as much as $12.5 million for the work.
Hoku shares jumped 10 percent, or 91 cents, to $9.96 yesterday in trading of 4.88 million shares, more than double its three-month average.
Cyanotech back in good graces
Cyanotech Corp.
, which last month filed its delayed fiscal 2008 first-quarter financial statement with the Securities and Exchange Commission, said yesterday it has regained compliance with Nasdaq listing requirements.
The Big Island producer of nutritional products from microalgae said it was notified on Oct. 3 of the decision by the Nasdaq Listing Qualifications Panel.
Cyanotech, which trades on the Nasdaq SmallCap Market, had endured a year of filing delays due to an internal accounting probe that resulted in three years of restated earnings.
BRIEF CASE
Beer blend.
The nation's second and third-largest brewers, Miller and Coors, are planning to blend their U.S. operations to help them compete in a struggling U.S. industry and against its leader, Anheuser-Busch.
Falling short. Aluminum producer Alcoa Inc. said yesterday that its third-quarter profit edged up more than 3 percent, helped by the sale of its stake in China's largest aluminum maker. But the results fell short of Wall Street expectations.
Mining for gold. Newmont Mining Corp., one of the world's largest gold mining companies, agrees to acquire Canadian gold miner Miramar Mining Corp. about $1.53 billion.
Forecast cut. The International Monetary Fund will cut its 2008 growth forecast for all major economies in its World Economic Outlook after the U.S. subprime mortgage lending crisis, a person with access to the report says.
[ HAWAII INC. ]
NEW HIRES / PROMOTIONS
» Pang Communications has named
Denise Park
as senior account executive. She will be responsible for media relations, marketing strategies, crisis communication and event planning for clients including Coldwell Banker Pacific Properties, Pictures Plus, Kober Hanssen Mitchell Architects and ClubHawaii.net. She previously served as an account executive for McNeil Wilson Communications, weekend news producer for KGMB 9 and has eight years of experience in the communications industry.
» Avalon Development Co. has named Kai Oshiro as office leasing specialist for the Kapolei Pacific Center. The office and retail center will be the first office complex to break ground in downtown Kapolei in nearly 10 years. He has 10 years of sales and marketing experience.
» Royal Lahaina Development Group has hired Jack Hunn as executive vice president. He previously served as senior vice president of design, construction and development for Vail Resorts Development Co. in Vail, Colorado for more than 25 years and has extensive experience in developing luxury residences, hotels, spas, clubs, restaurants and retail shops.
» Turtle Bay Resort has promoted Renee Brenner to controller from assistant controller. She previously served at La Posada de Santa Fe Resort & Spa in Santa Fe, N.M., Furnace Creek Inn & Ranch Resort in Death Valley, Calif., and the Grand Canyon, Ariz. She has 14 years experience in professional accounting.
» The Hawaii Government Employees Association has named Derek Mizuno as deputy executive director of administration. He will oversee all administrative functions for HGEA. He previously served as controller for the Estate of Samuel Mills Damon for five years, and as a senior manager for KPMG LLP for 10 years.
» Wailea Beach Marriott Resort & Spa has promoted Scott Obley to director of group sales from senior account executive. He previously served as national sales manager at the Steamboat Grand Resort Hotel in Steamboat Springs, Colo., and as concierge manager, recreation manager and sales manager at the Grand Wailea Resort Hotel & Spa.
» Island Insurance Co. has announced the following appointments to its claims division: Daniel Hamada has been named assistant vice president and claims supervisor of property, appraisal and subrogation. He previously served as a claims representative for TIG Insurance and has more than 17 years of claims experience. Dexter Ego has been named assistant vice president and senior field specialist. He previously served as a claims adjuster for Allstate Insurance and has mroe than 19 years of claims experience.
BOARD ELECTIONS
» Diamond Head Theatre has announced its board of directors for 2007-2008:
Gabriel Lee Sr.
, chairman;
Hugh C. Damon
, president;
Vernon Wong
, vice president and treasurer; and
Rae McCorkle Sultan
, vice president and secretary. New members also elected to the board are
Alan Hoffman
,
Mariko Lyons
and
Jerry Lynch
.
---
BUSINESS PULSE