---
FAST FACTS HAWAII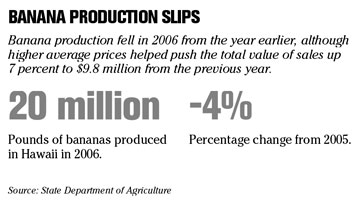 ---
HAWAII
Hawaiian's traffic increases
Hawaiian Airlines
carried 579,468 passengers last month, an increase of 19.5 percent over the year before, the airline said yesterday.
The airline's load factor, or percentage of seats filled, was 87.9 percent during the month, 4.8 percentage points higher than in September 2006.
Year to date, Hawaiian's load factor is 87.4 percent, 0.6 percentage points ahead of the year-ago period.
BRIEF CASE
New CEO. Pharmaceutical company GlaxoSmithKline PLC named Andrew Witty as its new chief executive yesterday, ending a yearlong internal competition for a replacement for Jean-Pierre Garnier who retires next year.
Yummy earnings. Fast-food giant Yum Brands Inc. said yesterday its third-quarter profit rose 17 percent on the strength of surging sales in its international and China divisions that offset sluggishness in the United States, led by slumping Taco Bell.
---
BUSINESS PULSE