---
FAST FACTS HAWAII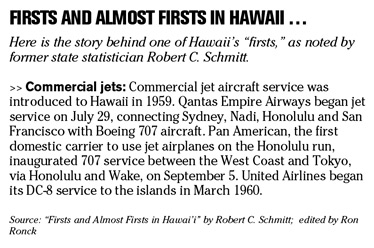 ---
NATION
ATM surcharge now averages $1.78
ALBANY, N.Y. » Banks are charging ever-higher ATM fees. But is $3 too much to bear?
A new study by Bankrate Inc. found that the average ATM surcharge, typically charged to folks using another bank's card, has jumped to $1.78, the highest fee on record and 14 cents higher than last year.
Bank of America this month upped its ATM fee to $3.
"What all the institutions are trying to do is get (declining income) back on fees, and the normal consumer doesn't factor in the fees," said Theodore Kovaleff, an industry analyst with Manhattan-based Sky Capital.
Consumers will pay about $4.4 billion in ATM fees this year, Bankrate estimated.
Still, there's nothing new about rising ATM fees. Bankrate's study shows that they have gone up nearly every year in the last 10 years. In 1998, the average bank surcharge was just 89 cents.
U.S. firms lag in giving bonus pay
Want a raise for all your good work? You might have to move. Merit pay increases are on the rise for workers in Asia-Pacific countries and Latin America, topping those of U.S. and European employees, according to a new survey.
While the amount of merit pay workers can expect to receive will remain steady, employees in quickly developing regions will enjoy a higher percentage raises, according to the survey by consulting firm Watson Wyatt Worldwide and WorldatWork, an association of human resource professionals.
Merit-based pay is expected to increase 5 percent next year in the Asia-Pacific region and 4.5 percent in Latin America, compared to 3.6 percent in the U.S. and 3 percent in Europe. However, companies are focusing more on rewarding high performers with bonuses, the survey found. At the same time, more workers are becoming eligible to receive incentives, but goals are becoming harder to reach.
The worldwide survey included nearly 950 companies with at least 250 employees .
Flexibility can help violence victims
Domestic violence may seem like a concern of the home rather than the office, but chances are it affects your workplace.
One in four women employees has been the target of domestic violence, according to a recent survey by Liz Claiborne Inc., victim-assistance agency Safe Horizon and the Corporate Alliance to End Partner Violence.
Corporate executives, however, estimated that only 6 percent of their full-time employees were victims of domestic violence. While they often recognized the effects of domestic violence the workplace, only 13 percent of executives thought their company should address the problem.
Violence in the home has ramifications in the office, such as increased absenteeism, tardiness, and diminished performance, said Scott Millstein of Safe Horizon.
"Domestic violence shows up in subtle ways in the workplace," said Millstein, its interim CEO. "It doesn't always show up with a black eye or a broken arm."
Co-workers also have to cover for the affected employee, and sometimes fear for their own safety, he said.
As with other employee issues, such as elder care or health problems, domestic violence requires flexibility, said Kim Wells, executive director of the Corporate Alliance to End Partner Violence. An employee might need a location change, new telephone number and help finding support networks, she said.
The survey presents results from two studies conducted during August and September 2007, and included a random sample of 200 CEOs or their representatives who work at Fortune 1,500 companies.
More firms offer pet-care benefits
Many workplaces offer childcare as part of their overall benefits packages. But how about a company-sponsored baby sitter for Fido?
Some employers are beginning to offer professional pet-sitting and dog-walking services to their animal-loving employees in an effort to cut down on absenteeism and boost productivity.
"Pets have become like kids," said Paul Mann, founder and CEO of Fetch! Pet Care, a franchise that provides pet-care benefits to businesses.
Such services free employees to work late or leave town for last-minute business trips, as well as cut down on workers having to arrange for pet care during business hours, Mann said.
---
BUSINESS PULSE