| | |
| --- | --- |
| | Island Mele |
---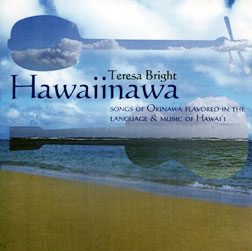 "Hawaiinawa"
Teresa Bright
(Teresa Bright Productions)
One of the great mysteries of Hawaiian music is why some instruments were adopted and adapted and others were not. Ki ho'alu (slack-key guitar) and the steel guitar are both adaptations of the original non-Hawaiian guitar, the ukulele was originally the Portuguese braguinha or machete, and the idea of slapping the acoustic "stand-up bass" to emphasize the beat also came from outside Hawaii.
Despite their origins, all four are now considered "traditional" Hawaiian instruments, so why not others? Why not Japanese and Okinawan instruments? With the exception of a few hapa-kepeni songs (Hawaiian-style songs with Japanese lyrics) there was almost no cultural crossover at all.
That history -- or nonhistory, as it were -- makes, "Hawaiinawa," Teresa Bright's venture into "hapa 'okinawa" music, a landmark release for several reasons.
First, from a strictly commercial perspective, it is beautiful music. Bright has one of the most consistently melodic voices in local music, and the soft acoustic arrangements frame her perfectly. Slack-key master Ozzie Kotani and steel guitarist Bobby Ingano are the primary musicians; Ben Vegas and Dwight Kanae also play slack key; Pua'a Auwai plays bass. Derek Shiroma adds sanshin, an Okinawan string, on two selections (at least one unidentified percussionist also participated).
The hapa 'okinawa element is created using Hawaiian instruments to play Okinawan melodies and adding Hawaiian translations of Okinawan lyrics.
The most promising songs incorporate Shiroma's sanshin. This happens first with "Niraikanai Matsuri," an instrumental that honors an Okinawan festival, and again on "Aloha Ka 'Aina 'E," an original song in which Bright imagines the thoughts of Okinawan field hands in Hawaii a century ago.
Bright completes her beautiful hapa 'okinawa experiment with the new Hawaiian lyrics and their English translations.
Teresa Bright
P.O. Box 813
Kaneohe, HI 96744
---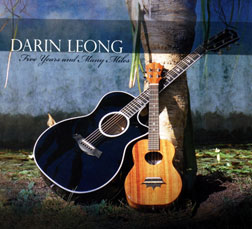 "Five Years and Many Miles"
Darin Leong
(Hawaii Guitar)
Darin Leong isn't the newest member of HAPA, but HAPA's Nathan Aweau brings his distinctive Na Hoku Hanohano Award-winning talents to this beautiful all-instrumental calling card. Leong quickly proves his command of the acoustic guitar; Aweau, his primary sideman, adds bass, percussion and piano.
The two get off to a strong start with an uptempo number, "Gratitude," that makes excellent use of Aweau's talents on bass. Leong comes back solo on "Sunday," and then welcomes Aweau back on bass and piano for "On This Journey."
Although Leong doesn't include information on the people or events that inspired these melodies, he evidently has broad musical horizons. There's a slight hint of "Stand By Me" in the first bars of "On This Journey," and a distant echo of "Jennifer Juniper" in "Manoa Morning" -- just enough to catch the ear. Leong's blending of slack-key techniques and mainstream folk guitar stylings makes his work more than background music or acoustic Muzak. There's a hint of the blues to be found in one song, and an attention-grabbing demonstration of his feel for the ukulele on others.
---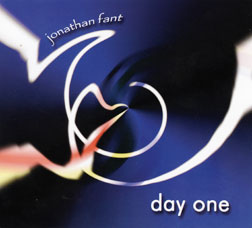 "Day One"
Jonathan Fant
(Third Culture)
Viola and acoustic guitar add an unusual and distinctive folkish edge to this debut EP by singer-songwriter Jonathan Fant. He's the composer, keyboardist and lead vocalist on four songs that express his unconditional Christian faith. Something about Fant's singing style brings to mind the artist formerly known as Cat Stevens, but his sentiments are all his own. What's more, the musical contributions of violist Julia Matallana set his work apart from other recent Christian or "inspirational" music.
"One Amazing God" sums up his message in straightforward but convincing style. At age 17, Fant is a better lyricist than some of his older co-religionists. "Beautiful Pain" shows that he knows a thing or two about arrangements as well.
"Day One" should be but the first CD by Fant, Matallana and the three friends who shared their talents on this promising debut.
John Berger
, who has covered the local entertainment scene since 1972, writes reviews of recordings produced by Hawaii artists. See the Star-Bulletin's Today section on Fridays for the latest reviews. Reach John Berger at
jberger@starbulletin.com
.