The Varsity cleans up nicely to open in old Magoo's spot
IT DIDN'T take very long for the college crowd to discover that the bar formerly known as Magoo's has reopened at Puck's Alley.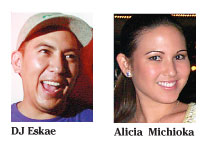 A quick drive-by two weekends ago showed plywood that had obscured the bar during its closure was gone. The Varsity's first night of business followed on Sept. 25, and it was full of customers when I stopped by two nights later.
While I can do without the hideous green paint that now covers the walls, everything seems to have gotten a good scrubbing. There are new tables and chairs, new bathroom fixtures and even more seating where the kitchen used to be (and a wall has since been removed).
Not surprisingly, beer prices have gone up, with pitchers running in the $6-to-$10 range. Food options now include Indian curry and sushi made in-house, with additional pupus catered by a BluWater Grill truck in the parking lot next to Eastside Grill; customers also can order pizza from the Magoo's truck in the same lot.
Now let's see if the former Varsity Theatre space across the street reopens as an entertainment venue in November as planned ...
HONOLULU'S NEWEST nightclub opens its doors this weekend with a party that should feel awfully familiar to neighborhood regulars.
The Loft will kick off its soft opening with "The Enterprise," which migrates from thirtyninehotel and transforms into a weekly happening with DJs Eskae, Ross Jackson, Matt Ratt, Vagina and Davey Shindig. Doors open at 9 p.m. for the 18-and-over crowd; big kids get in free all night.
On Thursday, the Loft welcomes "Thursdays Rocks" back from hiatus with the Malcognitas, House of Tragic, Black Square and the Supersonic Space Monkeys performing from 8 p.m. ...
CONCERT NEWS: Despite "almost 100 percent" certainty it was going to happen, the Oct. 27 Nas concert at Pipeline Cafe has been "indefinitely postponed" with Talib Kweli now scheduled to perform that night ... BAMP Project welcomes former Hawaii residents National Product back to Pipeline on Oct. 21. They'll open "Rocktoberfest" for Shiny Toy Guns ... R&B crooners K-Ci and Jojo will play Nov. 15 at (where else?) Pipeline ...
FRIDAY'S PICKS: Pacific Jungle celebrates the two-year anniversary of "Subphonix" at the Mercury, with DJs Meilo, Toki and Dani-One joined by MCs Kelvin Zero and Enemy from 10 p.m. ... Former Miss Hawaii USA Alicia Michioka hosts a "First Friday Afterparty" at Chai's Island Bistro from 9 p.m. VIP tables are available for $200, with a portion of the proceeds going toward Michioka's upcoming television special on missing keiki from Hawaii. DJs G-Spot, Quicksilva and Gabi will be on the decks ... The W Honolulu has added Architechs Hawaii to its promoter lineup behind "The Playground." They join Tantriq and Island Fire Productions in hosting the weekly party, which features an open bar from 9:30 to 11 p.m. For more details on what the Architechs had to delay in order to get down at the W, check out my blog ...
SATURDAY'S PICKS: "Fetish @ The Alchemist Lounge" promises to be one of the sexiest theme parties of the year, thanks to promoters DownTowne. It might not get as crazy as the recently departed "Dungeon" parties, but I'm interested in the live performance by Indica and seeing Jenn R. go-go dance ... Mixed martial arts fans will want to check out "Gracie Proving Ground" at the Blaisdell Arena, starting at 7 p.m. The night's main event features Rhalan Gracie taking on Keoni Bryant, with local boys Kaleo Kwon, Kolo Koka, Brandon Wolff, Ron Verdadero and Maui Wolfgramm also scheduled to fight ... Momona Unlimited presents "Studio No. 7" at Pipeline with Maxx Effexx, Go Jimmy Go, Isouljahs, Ooklah the Moc and D'Vious E and the Intellectual Mob. Cover is $10; doors open at 9 p.m. ...