---
FAST FACTS HAWAII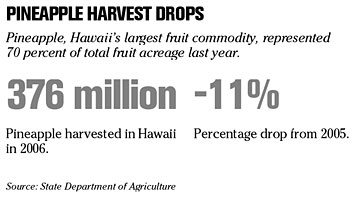 ---
NATION
GE to cut jobs in plant closures
HARTFORD, Conn. »
General Electric Co.
said yesterday it will close a number of lighting plants in Brazil and the U.S. as part of a plan to restructure its consumer and industrial division, potentially cutting more than 1,400 jobs in the process.
GE Consumer & Industrial, based in Louisville, Ky., said it will close all of its lighting operations in Rio de Janeiro, which will affect about 900 jobs.
The company also plans to close some lighting factories in the U.S., which will impact about 425 jobs. "A portion" of the U.S. jobs will be transferred to other GE lighting facilities, the company added.
Another 80 jobs will be affected by a transfer of some operations from facilities in Mexico and the U.S. to other locations.
30-year mortgage rates fall
WASHINGTON » Rates on 30-year mortgages fell this week after two consecutive increases, providing a break for potential home buyers and the beleaguered housing industry.
Freddie Mac, the mortgage company, reported yesterday that 30-year, fixed-rate mortgages averaged 6.37 percent this week, down from 6.42 percent last week. After hitting a high for this year of 6.73 percent in mid-July, rates have been trending lower.
Rates on five-year adjustable rate mortgages averaged 6.11 percent, down from 6.15 percent last week. One-year ARMs averaged 5.58 percent, down from 5.60 percent.
A year ago, 30-year mortgages stood at 6.30 percent, 15-year mortgages were at 5.98 percent, five-year ARMS averaged 6.00 percent and one-year ARMs were at 5.46 percent.
WORLD
Smart phone maker's profit jumps
TORONTO » Smart phone maker
Research In Motion Ltd.
said yesterday its fiscal second-quarter profit and revenue more than doubled, boosted by strong sales of its flagship BlackBerry products.
For the quarter ended Sept. 1, the Canadian company earned $287.7 million, or 50 cents per share, up from $140.2 million, or 25 cents per share, in the same period a year earlier.
Revenue more than doubled to $1.37 billion from $658.5 million.
BRIEF CASE
Liquor sales up.
Constellation Brands Inc. said yesterday its second-quarter profit rose 9.2 percent as strong liquor sales helped offset a drop in wine shipments to U.S. wholesalers and heightened competition in Britain.
Rate held steady. The European Central Bank held its benchmark interest rate steady at 4 percent on yesterday amid a strong euro, but tread a cautious path about its next rate move, given inflation risks and a turbulent world economy.
Name change. DaimlerChrysler AG shareholders voted overwhelmingly yesterday to change their company's name to Daimler AG to reflect the sale of its U.S. Chrysler division -- marking what CEO Dieter Zetsche portrayed as a new day for the company.
---
BUSINESS PULSE