Free Wi-Fi boots up in Chinatown
"Kokua Wireless" could expand to the rest of Honolulu
It took more than a year and a change of corporate partners, but the city's plan to offer free wireless Internet access in Chinatown is online.
The pilot project, which the city wants to test out in Chinatown first and then expand to the rest of Honolulu, is now available as "Kokua Wireless."
Mayor Mufi Hannemann is expected to make a formal announcement tomorrow, at the kickoff of this week's First Friday.
"We're slowing rolling it now," said Gordon Bruce, the city's chief information officer.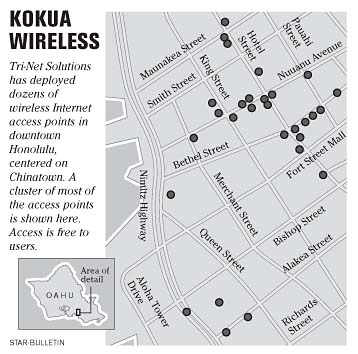 ---
Honolulu-based Tri-Net Solutions LLC -- not Earthlink Inc. as originally planned -- is providing the service, through a mobile wireless mesh system based on community participation. Local businesses volunteer to let Tri-Net install a node, or antenna, on their property, which then becomes an access point to the wireless network.
So far, some 25 nodes have been installed in Chinatown. The antenna hardware, purchased from Mountain View, Calif.-based Meraki Networks Inc., costs between $50 to $100 per node. Tri-Net purchased them itself, and is not charging the city or users for access. Tri-net is also the Internet service provider.
Volunteers range from Into, an upscale boutique on Hotel Street, to the Arts at Marks Garage on Nuuanu Avenue, and Fisher Hawaii at Fort Street Mall.
The same approach is now being used for municipal Wi-Fi in cities like San Francisco, which also originally had a deal with Earthlink.
There were 98 users on the Honolulu network as of early this week. The Wi-Fi soon could extend as far as Bishop Square in the central business district.
"There's nothing to stop us from going there," said Bruce. "We will start looking at Bishop Square and all of that area."
It might not be the fastest wireless connection, but it will be secure, according to Bruce, and it will filter out pornography.
"You'll get reasonably good speed and access," he said. "If private-sector guys provide value-added service, fine. We're not going to do that. Our goal is to provide free, secure access of a relatively adequate speed."
Hannemann originally announced the Wi-Fi plans after a Chinatown Summit last summer as part of an initiative to stimulate economic development in the neighborhood.
Bruce said the city has outfitted Honolulu's first responders, including police, fire and ambulance workers, with Wi-Fi access and plans to also give government workers the ability to conduct regular business on wireless.
But the city does not want to interfere with the services provided by the private sector. Private providers, however, are partnering with the city to provide Wi-Fi access in public venues.
Skywave Broadband Inc., which recently struck a deal with Hawaiian Telcom to provide more than 100 hot spots throughout the state, has offered to provide Wi-Fi in satellite city halls.
Hawaii Open Source Education Foundation -- or HOSEF -- is providing Wi-Fi Internet access at the city-owned Blaisdell Center as well as city parks. Clearwire Corp. volunteered to provide Wi-Fi access for Kalakaua District Park in Kalihi.
Aryn Nakaoka of Tri-Net declined to give an overall cost estimate for the pilot project, which will be tested for a year. Meraki says its technology typically costs one-tenth of traditional wireless systems.
"We're doing this as an experiment to see if it's sustainable," Nakaoka said. "We will consider every angle on how to make money. We truly believe the Internet is a powerful tool for the economy."
It is good exposure for now, he said, but options down the line might include seeking ad sponsorships.
Earthlink, the provider originally chosen for the project, pulled out of the Chinatown Wi-Fi deal three to four months ago, as it did in San Francisco, Houston and other mainland cities.
Earthlink was going to install antennas on light poles, with Hawaiian Electric Co. as a partner. HECO was going to test various utility applications but is no longer involved in the project.