Aloha, Disney
Mickey's company announces plans to build an 800-unit resort hotel at Ko Olina
STORY SUMMARY »
Walt Disney Co. has chosen Hawaii for its first hotel outside of its famed theme parks.
Walt Disney parks and resorts
What: 800-unit hotel and time-share property on Oahu

Where: Ko Olina Resort & Marina, near Lagoon 1

Size: 21 acres

Employment: About 1,000 jobs

Opening: 2011

Source: Walt Disney Co.
The company announced yesterday that it will build an 800-unit resort hotel and Disney Vacation Club on 21 acres of oceanfront land at Ko Olina Resort & Marina.
The firm paid $144 million for the land, next to JW Marriott Ihilani Resort & Spa near Ko Olina Lagoon 1. Disney has not been disclosed the resort's total cost.
Disney said that it would not use the Hawaii space to build a theme park. The company has been focusing its U.S. development efforts in recent years on other types of vacation properties, ranging from cruise lines to time shares and, now, stand-alone hotels.
Disney said that it chose Hawaii as its first stand-alone hotel destination because Disney Vacation Club time-share members showed strong demand for the islands. But the company's interest in the islands goes back to the company's infancy, when founder Walt Disney created the animated short "Hawaiian Holiday" in 1937.
Disney's presence in Leeward Oahu is expected to create about 1,000 jobs but also to help long-struggling Ko Olina finally achieve critical mass and propel Kapolei further along the road to achieving second-city status.
---
FULL STORY »
Walt Disney Parks and Resorts announced yesterday that it has purchased 21 acres of oceanfront property at Ko Olina Resort & Marina to develop the company's first stand-alone hotel.
Disney paid $144 million to acquire a plot near Ko Olina's Lagoon 1, where it plans to develop an expansive resort that will open in 2011, creating more than 1,000 jobs. The mixed-use resort will have more than 800 units, including hotel rooms and villas for the Disney Vacation Club, which is Disney's time-share brand. Total development costs are still undetermined.
"This resort hotel will give our guests another way to visit an exciting part of the world, with a brand that they trust," said Jay Rasulo, chairman of Walt Disney Parks and Resorts.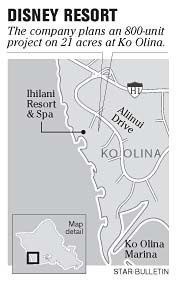 Walt Disney and Ko Olina developer Jeff Stone negotiated for about a year to close the deal, but Rasulo said that the company has had its eye on Hawaii for some time.
Hawaii has been among the Disney Vacation Club's most requested getaway locations beyond theme parks, he said. Beach vacations are the No. 1 most popular trips for families, and Hawaii is the second most popular destination after Florida.
Hawaii's natural beauty and family activities make it an ideal location for a Disney resort, Rasulo said.
The company plans a project that "honors the cultural diversity of Hawaii and reflects the spirit of aloha that makes this location so unique," he said.
Disney's interest in Hawaii goes back to the company's infancy, when founder Walt Disney created the 1937 animated short "Hawaiian Holiday" and later Disneyland's Hawaii-themed Enchanted Tiki Room attraction. The company also has a Polynesian-themed resort at Walt Disney World and developed an animated film "Lilo & Stitch," about a Hawaiian girl who tames an alien by teaching him the meaning of ohana. Disney also has done extensive film work in Hawaii, including on-location production for ABC's hit series "Lost" and the film "Pearl Harbor."
While Disney has a network of theme parks in Florida, California, China, Japan and France, there are currently no plans to develop such a park in Hawaii, Rasulo said.
Recently, Disney has chosen to focus its U.S. development efforts on projects outside of its theme parks.
Disney has expanded its Disney Cruise Line and its guided group vacation program, Adventures by Disney. And its Disney Vacation Club time-share operation has grown to more than 350,000 members from more than 100 countries and all 50 states.
There are five Disney Vacation Club properties at the Walt Disney World Resort, as well as stand-alone time-share properties in Vero Beach, Fla., and Hilton Head, S.C. Late this year the company plans to open Disney's Animal Kingdom Villas, its eighth vacation club, also in Florida.
The company operates 38 resort hotels with more than 35,000 rooms worldwide; however, Walt Disney Parks and Resorts Ko Olina Family Resort will be the company's first hotel outside of its theme parks.
While the company said that it is still too early to reveal the mix of retail, food and beverage and visitor experiences that Disney has planned for Hawaii, there are no plans so far to bring its cruise line to the islands.
However, Stone said in 2003 that he wanted to gear up ocean-based recreational facilities at Ko Olina. Plans called for expanding the marina and developing nearby Kalaeloa harbor to accommodate 900-foot cruise ships.
Disney's presence in Leeward Oahu is expected to open job opportunities in high-tech fields such as new media and digital technology that go beyond tourism, said Gov. Linda Lingle.
Disney's involvement in Ko Olina will help the Kapolei region continue to move toward its envisioned role as a second city, said Honolulu Mayor Mufi Hannemann.
"Having Disney as a neighbor has the potential to inspire our youth to dream about the possibilities for the future right here in our own community," said Senate President Colleen Hanabusa.
While the JW Marriott Ihilani Resort and Spa, the largest resort on Oahu's Leeward side, has brought needed jobs to the region, the arrival of Disney is expected to create the critical mass that was previously lacking at Ko Olina.
Stone has struggled to turn Ko Olina into a first-class resort destination. The company returned a $75 million tax credit to the state last year after plans for an aquarium fell through. The company had also been in negotiations with the Four Seasons, Trump Entertainment and Ritz-Carlton chains, but none of those talks came to fruition.
"For many years it has been our vision to continue to expand Ko Olina as a premier vacation destination for families and business travelers, and this new Disney resort hotel is making that vision a wonderful reality," Stone said.
With the Disney deal closed, Stone still has four more oceanfront parcels and several inland partials at Ko Olina open for development.