| | |
| --- | --- |
| | Newswatch |
---
Lingle to tout isle tourism in Asia
Gov. Linda Lingle plans to visit Asia later this month on an 11-day goodwill mission to promote Hawaii business, tourism and educational opportunities.
Stops on the visit include Seoul, Beijing and Ehime prefecture in Japan, Lingle's office announced yesterday.
The trip is scheduled from Oct. 23 through Nov. 3. It will be Lingle's second official visit to Korea and China and her third visit to Japan.
"This trip will focus on further developing partnerships that will enable Hawaii to take the lead in business, tourism and other industries, as well as provide new opportunities for our young people to compete in the global market," Lingle said in a statement.
Members of the administration scheduled to accompany Lingle include Marsha Wienert, state tourism liaison; Ted Liu, director, Department of Business, Economic Development and Tourism; Maj. Gen. Robert Lee, state adjutant general; and Lenny Klompus, senior adviser -- communications. University of Hawaii President David McClain and members of the Hawaii Tourism Authority also are scheduled to join the group at various stops.
U.S. magistrate gets third term
U.S. Magistrate Judge Barry M. Kurren has been reappointed to a third eight-year term, Chief U.S. Judge Helen Gillmor has announced.
Kurren, a magistrate judge for the District of Hawaii since March 2, 1992, will begin his new term in March.
He received his undergraduate degree with highest honors in 1973 from the University of Hawaii. He received his law degree from the Richardson School of Law four years later.
Kurren was in private practice for several years and served as a state district judge before being appointed to the federal bench. He has served on the 9th Circuit Magistrate Judges Executive Board and is a director of the Federal Magistrate Judges Association.
Officials ID victim in bike crash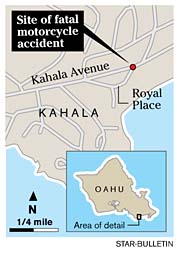 A 30-year-old Japanese woman who died after a Tuesday night motorcycle crash in Kahala has been identified as Satoko Aihara of Kanagawa prefecture, the Honolulu Medical Examiner's Office said yesterday.
The motorcycle driver, a Honolulu man, also died after the crash and had not yet been identified.
Autopsies showed both victims died from multiple internal injuries, the Medical Examiner's Office said.
Police said the couple's 2005 Harley-Davidson motorcycle crashed into a parked car at about 10:35 p.m. as it was heading toward Diamond Head on Kahala Avenue at a high rate of speed.
As the driver approached the intersection with Royal Circle, he failed to follow the road, which makes a slight bend to the right, and instead went straight, police said.
The motorcycle fell to the ground and crashed into a Ford multipurpose vehicle that was parked along the opposite curb, police said. The driver and the woman slid along the roadway, police said.
Both were taken to the Queen's Medical Center in critical condition and later died, police said. Police said speed was an apparent factor in the crash, and it appeared that neither victim was wearing a helmet. They are the 49th and 50th traffic fatalities on Oahu this year, compared with 74 at this time last year.
| | |
| --- | --- |
| | Police, Fire, Courts |
---
HONOLULU
17-year-old back at youth prison Police have captured a 17-year-old boy who escaped from Hawaii Youth Correctional Facility in Kailua earlier this year.
Police said that on Feb. 12 the boy escaped while on a day furlough from the youth prison.
At about 11:30 p.m. Tuesday, a patrol officer found the boy at Ala Moana Park, police said.
The boy was arrested on suspicion of second-degree escape.
Man is arrested for alleged assault
Police arrested a 51-year-old man who allegedly attacked a member of a church group that was feeding the homeless at a Moiliili park last month.
Police said the suspect punched a 65-year-old man in the chest several times, fracturing four ribs.
On Tuesday the victim saw the suspect sleeping on a bench in Kalihi and called police. The suspect was arrested on suspicion of second-degree assault.
Police say man punched girlfriend
Police arrested an 18-year-old man who allegedly punched his girlfriend, breaking her nose.
Police said the 22-year-old Nuuanu woman reported the incident at about 2 p.m. Tuesday. Police said the victim drove herself to a nearby hospital.
The suspect was arrested around 11:50 p.m. Tuesday on suspicion of second-degree assault.
LEEWARD COAST
HFD contains Waianae brush fire A brush fire burned about three acres near Paheehee Road in Waianae last night.
A caller reported an auto fire in the area at about 8:20 p.m., but a responding company found a brush fire, said Honolulu fire Capt. Earle Kealoha. He did not know if the brush fire started from an ignited vehicle.
Firefighters contained the fire shortly before 9:10 p.m., and no houses were threatened by the blaze.
NEIGHBOR ISLANDS
Police seek witness to crash Big Island police are looking for a motorist who might have witnessed a pedestrian accident on Sunday that killed a 97-year-old man.
At 2:09 p.m., Tadashi Yamashita of Pepeekeo was crossing Hawaii Belt Road, headed in the mauka direction at the Kaulaimano Road intersection, when he was struck by a 2002 Mazda van driven by a 23-year-old Hilo woman.
The possible witness was driving a black Toyota Tacoma pickup in the Hilo direction. Police ask that the driver of the truck call police Officer Wendall Carter at 961-2293.