---
FAST FACTS HAWAII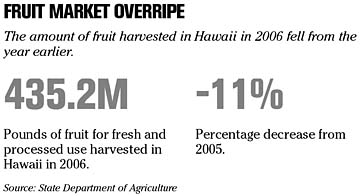 ---
HAWAII
Alaska expands Hawaii flights Alaska Airlines is expanding its service to Hawaii.
The Seattle-based airline will offer Anchorage-Hawaii service year-round starting Dec. 9. The nonstop flights will run daily through April 26, as part of its seasonal service announced in May. It will then fly twice-weekly routes on Fridays and Saturdays between April 27 and Oct. 25.
Beginning Oct. 12, the ninth-largest U.S. carrier will launch daily Seattle-Honolulu service, followed by Seattle-Lihue service on Oct. 28.
Anchorage-Hawaii fares start at $249 one-way through alaskaair.com and Alaska's reservation line at (800) 252-7522.
In September, Minneapolis-based Northwest Airlines dropped its seasonal Alaska-Hawaii flights, which were scheduled to run Dec. 19 through May 1.
NATION
Bear Stearns to lay off workers NEW YORK » Bear Stearns Cos. said yesterday it is laying off 310 workers and fusing its two mortgage businesses, after turmoil in the home loan industry contributed to a dramatic slide in the investment bank's profit this summer.
The news came only hours after Credit Suisse Group said problems in the mortgage market will linger as long as 18 months. It announced a fresh round of layoffs in its commercial mortgage-backed securities division, mostly in New York.
Bear said it is integrating its Bear Stearns Residential Mortgage and Encore Credit divisions into a single subsidiary. The new unit will soon begin offering loans that are eligible to be purchased by government-sponsored entities. Such loans are considered safer than most.
WORLD
EADS accused of insider trading PARIS » Just as Airbus began selling its oft-delayed superjumbo as a success story, a report of "massive insider trading" at parent company EADS was leaked to the media yesterday.
The preliminary report by the stock market regulator, suggesting that EADS executives sold shares and exercised stock options after learning about significant delays to the A380, came less than two weeks before a glitzy ceremony marking the delivery of the first superjumbo to Singapore Airlines.
EADS Chief Executive Louis Gallois, who did not sell shares at the time, tried to downplay the findings, which judicial officials said yesterday had been delivered to the prosecutor's office.
BRIEF CASE
Mortgage morass.
Deutsche Bank AG said yesterday it will write off about $3.12 billion in losses from the U.S. mortgage morass, but that gains from asset sales and tax credits will allow Germany's biggest bank to report a third-quarter profit of about $1.98 billion.
Profit off. ConocoPhillips, the third-largest U.S. oil company, said yesterday profit from its global refining operations likely was off significantly from last quarter, and oil and gas production was probably down too.
---
BUSINESS PULSE