---
FAST FACTS HAWAII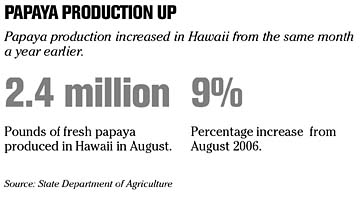 ---
HAWAII
Maui proposes new B&B rules Maui County's planning department will unveil a draft bill on Tuesday that is designed to expedite the permitting process for bed and breakfasts and restrict vacation rentals to resort areas and business districts.
Jeff Hunt, planning director for Maui County, said that if the bill is enacted, it will expand the zones where bed and breakfasts are allowed and will remove the provision that requires operators to apply through a conditional permit process for transient vacation rentals.
The county's lengthy application process and lack of enforcement of existing rules led to a proliferation of unlicensed operations until this summer, when the county told operators with pending permits they could honor reservations through the end of the year, while others were shut down.
Citizens can view the proposed legislation online at www.co.maui.hi.us/departments/Planning or call (808) 270-7735.
909 Kapiolani offers retail space
Posec Hawaii Inc.
, the developer of the 909 Kapiolani residential high rise in Kakaako, is selling four commercial retail units at the project for an undisclosed price.
The four spaces, combined, offer 4,500 square feet on the ground floor of the 36-story high-rise condominium. Each will offer an outdoor lanai area, with first floor parking stalls set aside for retail customers.
909 Kapiolani houses 227 one-, two- and three-bedroom apartments in addition to penthouses. Buyers began moving into the condo in late August.
Hawaiian gets OK for Manila
Hawaiian Airlines
has received approval from the U.S. Department of Transportation to fly nonstop between Honolulu and the Philippines.
Hawaiian will launch the service in March 2008 using its 264-passenger Boeing 767-300ER aircraft. It will be the only U.S. carrier with direct service between Honolulu and Manila.
Mark Dunkerley, Hawaiian's president and CEO, said considering the cultural and historic ties between Hawaii and the Philippines, he is confident there will be great demand for the service, which was announced in August.
BRIEF CASE
Reduced offer.
The group of investors that threatened to pull out of its deal to buy Sallie Mae for $25 billion reduced its cash offer for the nation's largest student lender by 17 percent.
Job cuts. Morgan Stanley is cutting about 600 jobs and consolidating its mortgage businesses, after a credit crisis upended the home loan industry this summer and forced other investment banks into similar moves.
Market buyout. The Nasdaq Stock Market Inc. is buying the Boston Stock Exchange for about $61 million, ending 173 years of independent ownership of the nation's third-oldest exchange.
---
[ HAWAII INC. ]
New hires / Promotions
» The Tokyu Group has named
Hisashi Konno
as president of the Mauna Lani Resort. He will oversee the resort's executive team in operations of the Mauna Lani Bay Hotel & Bungalows, the championship Francis H. I'i Brown Golf Courses and the Mauna Lani Spa. He previously served as vice president of Pan Pacific Hotels and Resorts, general manager of the Pan Pacific Hotel Yokohama and general manager of Tokyu's resort division.
» Nishihama & Kishida CPAs has announced the following promotion and new hire: Kristy Au has been promoted to senior tax manager from tax manager. She has served the firm since 1999. Darren Lee has been hired as senior tax manager. He has more than 15 years of experience with both national and local CPA firms.
» Hawaii Community Federal Credit Union has promoted Arnold Kanai to vice president of support services from support services manager. He will be responsible for the credit union's administrative and support services activities; electronic services; compliance; security and facilities management; business trend analysis and existing performance indicators; and strategic growth. He previously served as branch manager for Central Pacific Bank Kailua-Kona and has more than 20 years of experience in the finance industry.
» Sheraton Keauhou Bay Resort & Spa has named Brad Doell as director of sales and marketing. He will be responsible for global programs, marketing, customer education, staff training and retention, and group and leisure sales managers and assistants. He joined the company in 2005 as director of group sales and has previously served as global account director of Western Canada for Starwood Hotels. He has more than 15 years of hotel and corporate sales experience at Westin and Starwood Hotels.
» Bank of Hawaii has announced the following promotions: Susan L. Ing has been promoted to executive vice president from senior vice president and marketing director. She will continue her responsibilities as director of marketing, overseeing advertising, market research, marketing, client experience and promotions and events. She previously served as vice president of sales and marketing for DTRIC Insurance Co., division vice president of marketing for Finance Enterprises, and vice president of product management for Bank of America. She has more than 20 years of marketing experience in the financial services industry in Hawaii and on the mainland. Richard "Rick" B. Murphy has been promoted to executive vice president from senior vice president and retail credit manager. He will continue his responsibilities of risk management in the bank's retail loan portfolios with retail business managers. He previously served as senior vice president and manager of credit consumer review, audit director, audit manager and information technology auditor at Bank of America. He has more than 28 years of experience in the financial services industry.
» Finance Factors has announced the following promotions: Eileen Chun has been promoted to assistant vice president and assistant manager of the residential loan underwriting department. She will assist in overseeing the underwriting staff and secondary market underwriting, and underwrite the portfolio and residential real estate loans for the company. Sarah Kiaaina has been promoted to assistant vice president in loan administration from portfolio loan underwriter. She will assist in the development and maintenance of loan products for the company, and provide support for overall loan portfolio management, including maintaining and revising loan policies, interpreting and incorporating regulations into policies and procedures and managing department budgets. She previously served as a mortgage loan underwriter and branch manager of various locations for the company.
Awards / certifications
» Christie's Great Estates has selected
Caron B Realty International
as an exclusive affiliate. The network is the largest international luxury network of real estate brokers specializing in the marketing and sales of high-end properties.
Caron Broederdorf
has been representing and marketing estate and investment properties on Oahu for nearly 20 years and has been named one of Oahu's Top 10 Boutique Brokers and one of Hawaii's Top 35 woman Owned Businesses.
---
BUSINESS PULSE