Iolani can earn berth to states this week
STORY SUMMARY »
As far as the Iolani Raiders can see, the Sacred Hearts Lancers are on tonight's horizon.
Anything beyond that will be on the agenda after the match, which is just the way coach Jenic Tumaneng has approached each new hurdle. That outlook has Iolani at No. 1 in the Star-Bulletin Girls Volleyball Top 10 for a second week in a row.
And, for fans who are wondering, Iolani needs wins over Sacred Hearts and Punahou (Saturday) to earn an automatic state-tournament berth.
No. 2 Kamehameha plays Saint Francis today but is off the rest of the week. No. 3 Punahou warms up with Maryknoll tonight.
Making a move
Seabury Hall rode a pair of convincing wins to a No. 6 ranking in the Star-Bulletin volleyball poll
| | | |
| --- | --- | --- |
| Team | TW | LW |
| Seabury Hall | 6 | 9 |
Beat Baldwin and Lahainaluna
| | | |
| --- | --- | --- |
| Team | TW | LW |
| Hawaii Baptist | 8 | 10 |
Beat University and Mid-Pacific but lost to Iolani
---
FULL STORY »
There will be no loading the gym storage room with "ILH Champions" paraphernalia.
There will be no talk of state tournaments and transportation logistics in Hilo.
In the world of prep athletics, Jenic Tumaneng takes everything one day, one practice at a time. The veteran volleyball and basketball coach has seen just about everything that comes with athletics.
With his Iolani Raiders now 13-0 and closing in on the first-round title in the Interscholastic League of Honolulu, all future-speak is probably not something he wants to hear. Not yet.
For now, Iolani collected seven of eight first-place ballots today to remain No. 1 in the Star-Bulletin Girls Volleyball Top 10.
After the then-No. 2 Raiders outlasted then-No. 1 Kamehameha two weeks ago, the Raiders secured the inside track to an automatic state berth. Tumaneng, wary of a letdown, was prepared for the aftermath.
"We were gaining good focus going into that match, but after that big win, they got to enjoy it," Tumaneng said.
His concern proved to be warranted.
"We definitely had to regain that focus. We had one practice, then Maryknoll, and we came out flat. We were still emotionally drained," he said.
Following the Maryknoll match, Iolani swept through last week's matches, including a win over tough Hawaii Baptist on Saturday.
If the Raiders can beat two more tough foes, Sacred Hearts and Punahou, the first-round crown is theirs.
Losing one of the two matches would open the door to a three-way tie for first place, which is what happened last season.
Two years ago, Iolani won the first round, but lost in the second-round league tournament, and then lost in the league final as Kamehameha went on to the state championship.
"Our senior girls remember that season. They want that ILH crown," Tumaneng said, referring to Lauren Minkel and Leinani Keanini, among others.
In the meantime, Tumaneng and his staff -- which includes former Kalani assistant Aven Lee -- will sprinkle in a few new looks.
"You gotta have a few (new) things in there when you play teams twice, three times. You have quality coaches who are gonna make adjustments," he said.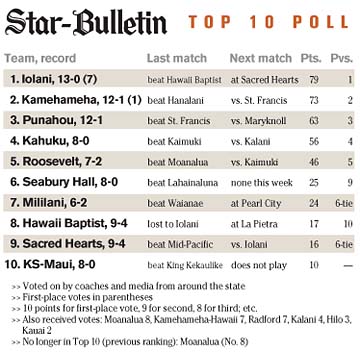 ---