Captain left with sinking feeling
The captain did not want to abandon ship.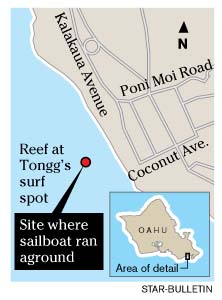 Pat Magee had invested all his money and the past two years into his 42-foot sailboat, Victoria. But the moment that Victoria bumped into the reef at Tongg's off Waikiki yesterday, snapping the rudder and his hope, the 75-year-old Maui resident knew he had made a mistake.
"From there I knew we were at the mercy of the winds," said Magee yesterday afternoon as he watched men clean up the wreckage of his boat. "There was nothing we could do."
His two friends, crew members who sailed with him for the past month from San Diego to Hawaii, called the Honolulu Fire Department for help at 12:30 a.m. The captain, still wanting to save his yacht, declined the help of the helicopter and rescue boat.
Michael Olsen, who was staying with friends who live near Tongg's, a popular surfing spot, said neighbors were swimming out to help the three men. Kayakers pulled electronic equipment from the vessel and paddled back to shore.
Firefighters were called back to help around 2:30 a.m. The two crew members walked back to shore since the tide was so slow, but still Magee stayed.
"Eventually the captain realized he had to get off the boat," Olsen said. "He came on shore looking ashamed and devastated."
Olsen gave Magee a peanut butter and jelly sandwich. They sat on the porch and looked out at the sinking Victoria lit up by the half-moon. They talked about the boat that Magee bought on eBay and which he turned too soon, straight into the reef at low tide instead of into Ala Wai Harbor.
About one or two sailboats of the Victoria's size run aground each year in Oahu's South Shore, said Coast Guard spokesman Lt. John Titchen. In the dark it is possible for skippers to mistake the Diamond Head buoy for the Ala Wai channel buoy, he said.
"It was very shocking," said Olsen's friend Sarah Goss. "We see outriggers here, but to see a yacht this close, it was quite a picture."
About five gallons of marine diesel spilled into the ocean, with some oily debris washing up at Outrigger Canoe Club.
The Coast Guard hired contractors for about $30,000 who completed the cleanup by 12:20 p.m. Magee did not have insurance, so he gave up the Victoria to the state, which cleaned up the wreckage yesterday. He will have to pay back the state for the cleanup, said state Department of Land and Natural Resources spokeswoman Deborah Ward.
"The yacht was just beautiful in the water," recalled Olsen, "and now there's nothing left of it."