---
FAST FACTS HAWAII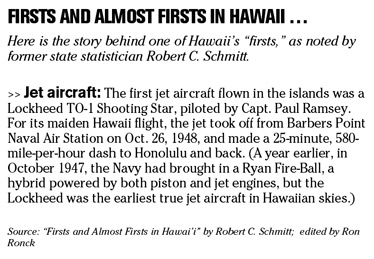 ---
HAWAII
Ah, those wacky jobseekers
Some people will say anything to get a job.
In a recent poll by staffing firm Accountemps, executives were asked to name the wackiest pitch they'd ever heard from a jobseeker. Here are some of their responses:
» "An individual told me he was allergic to unemployment."
» "One candidate said that we should hire him because he would be a great addition to our softball team."
» "A person said he had no relevant experience for the position he was interviewing for, but his friend did."
» "One person brought his mother to the job interview and let her do all the talking."
» "One job seeker said he should get the job because he had already applied three times and felt that it was now his turn."
» "One candidate sang all of her responses to interview questions."
» "One individual said we had nice benefits, which was good because he was going to need to take a lot of leave in the next year."
The nonscientific national poll included responses from 150 senior executives with the nation's 1,000 largest companies.
What your cubicle says about you
Before you plaster your cubicle with family photos, little Jimmy's artwork or a poster of Brad Pitt, consider what all those knickknacks say about your professionalism.
If more than one in five items in your office or cubicle are personal, you may be viewed as unprofessional, according to research conducted at the University of Michigan's Ross School of Business.
"There's this unspoken but widely known idea that is has to do with how you manage this work, non-work boundary," said professor Jeffrey Sanchez-Burks, who conducted the research with colleagues Susan Ashford and Emily Heaphy of McGill University.
An aversion to blurring work and personal boundaries is largely an American phenomenon, he said.
U.S. workers are expected to put aside personal matters upon walking through the office door, a result of a prevailing Protestant work ethic, Sanchez-Burks said.
In the study, 95 managers were given descriptions of professional and unprofessional workers. They were then asked to construct the office of each worker by placing stickers of dozens of items, from staplers to family photos to plants, onto images of an office.
The researchers found that the professionalism of each worker was reflected in the proportion of objects that referenced their personal life.
---
BUSINESS PULSE