Numbers have afternoon ferry ride in the lead
STORY SUMMARY »
The 4:20 p.m. ride on the city's commuter ferry is by far the most popular, even hitting full capacity once, yet other rides are filling just a third of the seats, according to the first two weeks of TheBoat's ridership numbers.
City transportation officials say they are considering changes and improvements based on initial feedback from riders, including routes serving Ewa Beach residents and altering ferry times to accommodate demand.
Free wireless Internet will also be available starting today, the end of the city's weeklong promotional offer of free fares.
---
FULL STORY »
Roxanne Costa, a car commuter of 19 years, changed her work schedule just so she can ride TheBoat. For the next month, Costa is going on an experiment of her own: giving up her car and buying a bus pass to ride the city's commuter ferry.
But as she sat in an air-conditioned room of TheBoat yesterday, looking down at a line of about 20 people waiting to catch the 4:20 p.m. ride to Kalaeloa Pier, she had second thoughts about her monthlong experiment.
"If I have to stand in that long line, I'd rather drive my car," Costa said. "So far, it hasn't been a problem."
Costa finishes work at 3:30 p.m. and goes home to Makakilo on the 4:20 p.m. ferry from Aloha Tower to Kalaeloa, the most heavily used ride so far as TheBoat completes today its second week of the yearlong pilot program.
More than 120 people have been consistently filling the 4:20 p.m. ride this week. On Wednesday about 15 people had to either catch the bus or wait for the next ferry because the 4:20 p.m. ride filled to capacity at 149.
"It's been really promising," said TheBoat project manager Darin Mar. "Although we didn't have any expectations, normally the roll-out of an initial service takes time to build ridership. This shows that West Oahu residents want something and are willing to try something new."
City Transportation Director Mel Kaku thinks the popularity of the 4:20 p.m. ride is due largely to the time people get off work, as with Costa.
The number of riders for the day this week has been slightly increasing since the city's launch of TheBoat Sept. 17. However, Kaku said ridership is up because of this week's promotional offer of free fares.
Robert Shoemake, a deckhand on one of the ferries, said if the boat is close to reaching capacity, the crew gives preference to bus transfer holders or commuters over riders going for fun.
"If it weren't for the free fares, I don't think we'll have much of a problem," Shoemake said. "Our main goal is to get the commuters home."
Despite the success of the 4:20 p.m. time slot, other scheduled ferry rides are filling a third or less of capacity. The morning routes from Kalaeloa to Aloha Tower average about 50 riders per trip, while the 5:20 and 6:50 p.m. return trips get about 30 riders. City officials anticipated a low turnout for the 6:50 p.m. ride.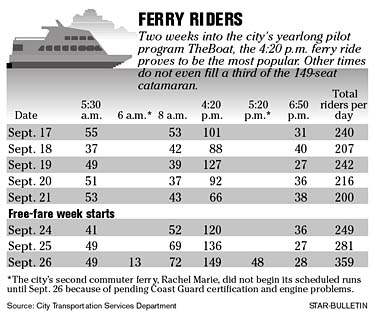 ---