Isle visitor arrivals up 3.5% in August
The market posts its first successive month of growth since 2005
STORY SUMMARY »
Hawaii's visitor industry had a good month in August, partly because of a rare uptick in tourism from Japan.
Visitor traffic and expenditures both registered gains over August 2006, and the proportion of visitors choosing hotels over timeshares and other lodging increased as well.
The source market with the biggest gain was Japan, which registered its first back-to-back monthly increase since 2005 -- something officials don't think will continue.
Canadian arrivals also were strong, although traffic from the important U.S. West region was up only 0.8 percent.
---
FULL STORY »
The state's visitor industry turned in a strong performance in August, with a 3.5 percent boost in total visitor arrivals over the same month last year, while total visitor expenditures grew 4.2 percent to $1.2 billion.
Figures released yesterday by the state Department of Business, Economic Development and Tourism also showed that Hawaii's Japanese visitor market recorded its first successive month of growth since 2005 -- though tourism officials aren't predicting that trend to continue.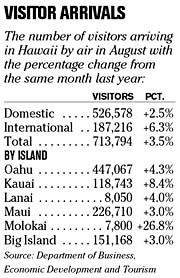 Moreover, August was the first time in 16 months the industry has seen an increase in visitors choosing to stay in hotels, over timeshare, condominiums and other alternative lodging.
"There's probably a direct correlation in the number of Japanese visitors who choose hotels," said Marsha Wienert, state tourism liaison. Hotel visitors typically spend more on dining out and shopping than other types of visitors.
The August expenditure tally was an increase of $46.3 million over the same month last year, while average daily visitor spending rose to $182 per person, up $2 from August 2006. Total visitor days were up 2.9 percent compared to the year-earlier period.
The growth in visitor traffic was led by Japan, which posted a 6.3 percent increase in arrivals over the same period last year. Japanese arrivals also were up 2.1 percent in July, after months of steady declines.
However, the spike in Japanese arrivals isn't expected to continue.
"As we move forward we continue to be cautious where the Japan market is concerned," she said. "Japanese travel to the islands this fall is not expected to be as robust as it was in the summer months."
Summer is a traditionally high travel period for Japanese, and much of the increase in arrivals -- 17 percent -- was in group travel for corporate meetings and conventions, Wienert said.
Arrivals in Hawaii's other top visitor markets also were up last month with a 2.7 percent rise in visitors from the U.S. East and a 5.6 percent spike in Canadian travelers, while U.S. West arrivals grew by 0.8 percent.
"We don't think we've turned the corner or that everything is going to get better all of a sudden," said Keith Vieira, senior vice president of Starwood Hotels & Resorts Worldwide. "We're happy where it's at. The strength of the yen we hope will also continue to fuel a return of the market."