Haleakala biker dies after hitting tour vehicle
STORY SUMMARY »
An Ohio woman died yesterday morning in a bicycle tour crash at Haleakala National Park, marking the third death of a bicyclist on the downhill road in less than a year.
The crash came as the park prepares to release proposed measures to improve safety. Officials are not ruling out banning the bicycle tours, which attracted 79,000 riders in 2005.
Yesterday's victim, who was in her 60s, lost control of her bicycle on a sharp curve and collided with a tour van.
---
FULL STORY »
An Ohio woman became the third bicyclist to die at Haleakala National Park in less than a year yesterday when she crossed the center line during a steep curve and collided with a van, officials said.
Her death on the downhill road of the 10,000-foot Maui volcano comes as the park prepares to make public new measures being considered to avoid injuries, and possibly ban the bike tours.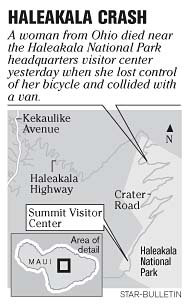 The woman, who was in her 60s, lost control of the bicycle at about 10 a.m. just above the headquarters visitor center and unsuccessfully tried to avoid a tour van from a different company heading up Haleakala, officials said after talking to witnesses.
Park rangers and paramedics responded to the accident, but the woman died at about 10:45 a.m. Names of the victim and the tour companies involved were not released.
Traffic was blocked in both directions for about 2 1/2 hours, said park spokesman Dominic Cardea. The park is investigating the crash, he said.
The accident came about three months after the park announced it was looking at the risks of downhill bicycle tours as well as all other businesses such as hiking and horseback riding to develop rules to prevent accidents.
In the spring a woman died after riding off the edge of the road, some four months after a man died of a heart attack after hitting his head in a bicycle accident. Cardea called the string of three deaths in the past 10 months "rare," estimating that five people have died on roads under park jurisdiction in the past 10 years.
Still, park officials are debating whether the activities "are appropriate" and "necessary" for the park, Cardea said, adding that a document outlining proposed safety measures for the area could be released to the public in the next few days.
"Everything is on the table right now," he said.
The downhill bike tours, which became popular at the park about a decade ago, are dangerous because riders have to share a single lane of traffic with tour buses and cars in about 26 miles of road built in the 1930s, Cardea said.
"It's one lane up, one lane down with no real big shoulders," he said. "And like a lot of historical roads, it doesn't have all the traffic controls that you would have on a normal highway."
There are 19 bicycle tour businesses that operate down Haleakala, attracting an estimated 79,000 riders in 2005, according to the national park. The businesses pay about $250 for an annual commercial use authorization, and an additional $5-per-person entrance fee, pending the development of a commercial services plan.
Lewis Upfold, manager of Haleakala Bike Co., which rents out bicycles to about 150 customers daily, said injuries are expected but that they do not have to be fatal.
He attributed most serious accidents to aggressive or impatient drivers who do not wait for passing zones to overtake tour groups. Instead of prohibiting businesses, Upfold said, park officials should focus on educating motorists and bicyclists about road rules.