---
FAST FACTS HAWAII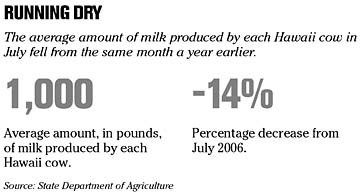 ---
HAWAII
Appliance maker plans warehouse The local distributor for Sub-Zero Inc. and Wolf Appliance Inc. kitchen products plans to break ground tomorrow on an 11,000-square-foot building in Waipahu.
Westye Group West Inc., which has a showroom for Sub-Zero and Wolf products at 938 Piikoi St. in Honolulu, will use the new building as a warehouse and distribution center. The warehouse site, at 94-429 Akoki St., is currently vacant.
NATION
Microsoft upgrades search engine SEATTLE » Microsoft Corp., the No. 3 Web search provider in the U.S., is rolling out changes to its search engine aimed at narrowing the gap between it and market leader Google Inc.
Microsoft is quadrupling the number of sites it searches for new information and overhauled the core technology that decides which results to display, said Satya Nadella, corporate vice president for Microsoft's search and advertising group.
Nadella said the updates will be phased in by the end the month. Among them, he said, are improvements to the way Live Search interprets what users are looking for.
In August, Microsoft snagged 11 percent of U.S. Web searches, far behind Google Inc.'s 57 percent and Yahoo Inc.'s 23 percent. Making money from search depends on volume, and Microsoft has its eye on the billions of dollars Google rakes in from search-related keyword advertising.
WORLD
Another record IPO in China SHANGHAI » China Shenhua Energy Co., the country's biggest coal miner, has raised 66.6 billion yuan ($8.9 billion) in its Shanghai initial public offering, a record for a mainland IPO.
The 1.8 billion yuan-denominated shares were priced at 36.99 yuan ($4.92) each, the top of their indicative range, Shenhua said in a notice issued late yesterday. The shares constitute 9 percent of the capital of Shenhua, which already has shares traded in Hong Kong.
The IPO topped China Construction Bank's share offering earlier this week as the largest ever on a mainland Chinese bourse. The Construction Bank, which began trading Tuesday in Shanghai, raised 58.05 billion yuan ($7.7 billion).
---
[ HAWAII INC. ]
New Hires / Promotions
» Linthicum has announced the following new hire and promotions:
Ralph Kelsey
has been promoted to vice president from director of field operations. He will oversee all construction projects in Hawaii. He has served the company for 11 years and is a 39-year veteran of the construction industry.
Myron Lindsey
has been hired as project manager. He is a 30-year veteran of the construction industry.
Michael Price
has been promoted to contract administrator from project engineer. He will be responsible for negotiating project work and purchasing while assisting the project manager for the Kukui'ula Plantation Club Core.
Paullette Moorer
has been promoted to controller from project administrator. She will be responsible for accounting, financial reporting, preparing annual budgets and forecasts. She has served the company for 12 years.
» Wincubic has hired Kikuko Shimizu, Kayo Mamaclay and Megumi Taketa as account executives for the restructuring of its customer relations team. President Hajime "Jim" Ueno and Vice President Yoshi Furusawa will also serve as team members to provide their expertise and expand the team from four to seven staff members.
» Island Insurance Co. has announced the following new appointments in its underwriting services division: Joyce M.T. Fujimori has been named assistant vice president and large accounts manager. She previously worked at Marsh USA, Pacific Insurance Co. and Industrial Indemnity and has more than 17 years of experience in the insurance industry. Tricia M. Miyashiro has been named assistant vice president and surety manager. She previously served as an assistant bond underwriter at Jack Wolfe Insurance and has more than 15 years of experience in the surety industry. James L. Newberry has been named assistant vice president and risk control manager. He previously served at Fireman's Fund Insurance Co., Home Insurance Co. and Zurich Insurance Co. in San Francisco and has 29 years of experience in the risk control industry.
Board elections
» The American Payroll Association Hawaii chapter has announced its new officers for 2007-2008:
Jason Daley
, president;
Leila Kagawa
, vice president;
Lea De Ocampo
, secretary; and
Lloyd Kurashige
, treasurer.
» The Hawaii Medical Assurance Association has elected Gail Mukaihata to its board. She currently serves as chief executive officer of Girl Scouts of Hawaii and also serves on the board of the Children's Alliance of Hawaii and the Hawaii Alliance of Non-Profit Organizations.
---
BUSINESS PULSE