Nutrition information offered in bytes
Perhaps it never occurred to you to wonder about this, but a typical Spam musubi has 253 calories and 6 grams of fat. On the plus side, it has 19 milligrams of calcium.
A handful of arare? No fat, and 55 calories.
All this and more can be learned by poking around the new Hawaii Foods Web site, a project of the University of Hawaii-Manoa's College of Tropical Agriculture and Human Resources and the Cancer Research Center of Hawaii.
Try it out at www.hawaiifoods.hawaii.edu.
Don't make the mistake of going to hawaiifoods.com, which takes you to a site for buying food. Hawaii Foods is all about education -- knowing what you're eating. (If you don't want to be frightened, don't look up chicken katsu.)
Beyond explaining the relative evils of your vices, the site offers a comprehensive data base of Asian and Pacific Island foods that can be overlooked in Western references.
A few clicks, for example, takes you to a page about choi sum, or Chinese flowering cabbage, a cooked cup of which -- you can see at a glance -- is high in calcium, potassium and vitamin A. There's even a picture, so you can recognize it at the grocery store.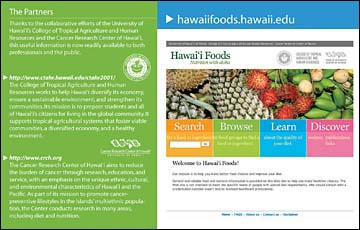 ---
Another few clicks takes you to a list of recipes where you can find a way to use the choi sum in a stir fry with chicken and mushrooms. That feature's a bit limited right now, but Hawaii Foods promises additions as the site matures.
The site also will play the role of mom, or your nutritionist, offering an interactive feature analyzing your diet. Tell it what you eat in a day, and it'll tell you what that comes down to in nutritional components. In other words, are you eating too much fat, too little fiber?
Project coordinator Cyndy Kahalewale says the site has been under development for about a year, although the idea had been around for at least four years. She works on it full time, with part-time help from a programmer, Web designer and a dietitian. "It's been a need in Hawaii for years," Kahalewale said.
The site merges knowledge collected throughout the College of Tropical Agriculture with nutrient analyses from the Cancer Research Center.
"We thought it was a great marriage."
But there were challenges, she said. "In Hawaii with all the different cultures that we have, one food has so many different names -- like kaki mochi, mochi crunch, arare -- so that was challenging, but also more interesting."