| | |
| --- | --- |
| | By Request |
---
Rice salad offers potluck alternative
OK, when this request came in, it was totally unfamiliar and, frankly, it didn't sound as though it would taste very good. But that was just my ignorance showing, on both counts.
Sandi Fujitani had e-mailed in search of a recipe for a brown rice salad that her friend's grandmother used to make. It had a vinaigrette dressing and she remembered clearly that it included plenty of red-skinned peanuts.
Her request was printed in this space last week and drew several responses, a couple from readers who said it had been a favorite potluck dish for years. All the ingredient lists were the same, and all called for a salad dressing made by Tropics.
The dish also calls for Spanish peanuts, which can be found in supermarkets next to regular peanuts. They're distinguished by their papery red skin.
Most measured their ingredients "to taste," and didn't have a true recipe. The most complete formula came from Linda Nishida, who in turn credits Lindy Hashimoto at www.lindysonorecipes.com.
It is a refreshing mix with a sesame flavor from the dressing and a nice crunch from the peanuts. I can see the potluck appeal, as it's a good alternative to potato or macaroni salad -- much lower in fat and calories. And it could easily be modified with other vegetables or herbs.
Brown Rice Salad with Spanish Peanuts
4 cups cooked brown rice, cooled
3/4 cup Tropics Oriental Dressing
1/2 cup chopped celery
1/2 cup chopped green onions
1/4 cup chopped Italian parsley
1 cup frozen green peas, thawed and drained
2 cups Spanish peanuts
Pour dressing over rice and toss to coat. Taste and add more dressing, if needed.
Be sure rice is completely cool, then add vegetables.
Stir in peanuts just before serving; add more dressing if salad seems dry. Serves 8.
Approximate nutritional analysis, per serving: 280 calories, 17 g total fat, 2.5 g saturated fat, no cholesterol, 250 mg sodium, 26 g carbohydrate, 4 g fiber, 4 g sugar, 9 g protein.
Cookbook update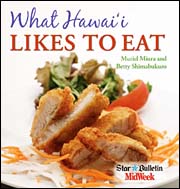 For those interested in the early bird discount on "What Hawai'i Likes to Eat," my cookbook partnership with Muriel Miura, sales continue through Monday at the Star-Bulletin newsroom in Restaurant Row (Building 7, Suite 210) or Mutual Publishing (1215 Center St., Kaimuki). Books are selling for $20; $8 off the cover price.
They won't be in bookstores until Oct. 15.
Online orders: www.mutualpublishing.com. Call 732-1709.
Send queries along with name and phone number to: "By Request," Honolulu Star-Bulletin, 500 Ala Moana, No. 7-210, Honolulu 96813. Or send e-mail to
bshimabukuro@starbulletin.com