---
FAST FACTS HAWAII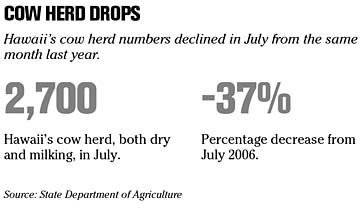 ---
HAWAII
State unemployment rate steady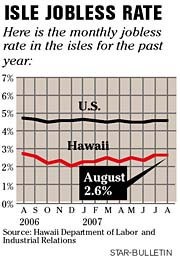 Hawaii's jobless rate stayed flat in August, putting the state's unemployment at the second-lowest in the country with Utah.
The seasonally adjusted rate for the states remained at 2.6 percent, behind Idaho's 2.4 percent, according to the state Department of Labor and Industrial Relations.
The national jobless rate was also unchanged from July, at 4.6 percent. A year ago, Hawaii's rate was 2.3 percent, with the national rate 4.7 percent.
By county, which the data are not seasonally adjusted, Honolulu and Kauai had the lowest jobless rate, at 2.4 percent, followed by Maui County at 3 percent and Hawaii County at 3.3 percent.
Hawaiian Telcom debuts hotspots
Hawaiian Telcom
announced that its High Speed Internet subscribers will now have free WiFi access at more than 100 HT Spots in the state through a deal with
Skywave
.
That includes Ala Moana Center, Restaurant Row, the downtown business district, Waikiki and about a dozen Coffee Bean & Tea Leaf locations in Hawaii. Neighbor island locations include Kapaa on Kauai, Kona and Hilo on the Big Island and Kahului, Maui.
Joint plans to further expand locations are in progress. A complete list of HT Spots can be found at www.hawaiiantel.com or www.skywavebroadband.net.
NATION
Clear Channel buyout approved SAN ANTONIO » Clear Channel Communications Inc. shareholders have approved a $19.5 billion buyout of the radio giant, more than 10 months after the deal was proposed, the company announced yesterday.
The offer from a private equity group led by Thomas H. Lee Partners LP and Bain Capital Partners LLC was first announced in November, then sweetened to $39.20 per share in cash or stock. Current shareholders could end up with as much as 30 percent of the new, privately held company.
Of the shares voted, about 98 percent were in favor, Clear Channel said. In Hawaii, Clear Channel owns top-rated KSSK-FM 92.3/AM 590 and five other stations.
Scratched 'Halo' disks found
SEATTLE » Just hours after die-hard fans finally got their hands on a copy of "Halo 3," blogs brimmed with reports that special limited-edition packaging is scratching the video game disks.
While the scratches don't appear to be keeping gamers from playing the last installment of the popular trilogy, Microsoft Corp., responded quickly on its Xbox Web site with details for a replacement program.
Richard Mitchell, the lead writer of the Xbox 360 Fanboy blog, said one of the disks that came in his limited-edition set is scratched but the damage didn't seem to interfere with its playing.
BRIEF CASE
Goodbye DRM.
Amazon.com Inc. launched its digital music store yesterday with nearly 2.3 million songs at 89 to 99 cents each, none of them using digital rights management technology. DRM helps stem illegal copying, but can frustrate legitimate uses.
Networking China. Cisco Systems Inc., the world's biggest network equipment maker, announced a deal today with China's largest appliance manufacturer to cooperate on home networking as companies race to cash in on the Internet's growing popularity as an entertainment channel.
Shareholders irate. Private shareholders in one of Britain's largest mortgage lenders formed an action group yesterday to hold management accountable for their decisions and to fend off a fire sale as shares of Northern Rock PLC continued to head south.
---
[ HAWAII INC. ]
New Hires / Promotions
» John Mullen & Co. has announced the following promotions:
Milia Leong
has been named workers' compensation claim manager. She has served the company for seven years and has 12 years of experience in the claims industry.
Stacia Peleholani
has been promoted to assistant claim manager of casualty/property. She has served the company since 1984 and has 30 years of experience in the claims industry.
» Hui No'eau Visual Arts Center has hired Deborah Peterson as director of development. She previously served as campaign director for Maui Arts & Cultural Center and has more than 20 years of fundraising experience, which include 13 years of developing start-up foundations in California. She has also served as treasurer and symposium marketing coordinator of Network for California Community College Foundations and as a past member of the Council for Resource Development and the National Planned Giving Council.
» ProService Hawaii has promoted Bryan Knight to director of onboarding from senior account manager. He will be responsible for transitioning new small business clients into ProService system and services. He joined the company in 2005 as a sales coordinator and previously served as a supervisor for LV Hawaii's Loewe and Fendi stores.
» The Hawaii Government Employees Association has promoted Jodi Endo Chai to communications officer from communications specialist. She will be responsible for marketing and advertising, external communications with the media and community, and internal communications with HGEA's leadership team, board of directors and union membership. She has served HGEA for 11 years and has previously served in public relations for Kapiolani Health and Finance Enterprises.
» Mobi PCS has named Tyrone Bartoli as retail sales manager for its new Kaimuki location. He will be responsible for sales performance, product inventory and merchandising, and hiring, training and management of staff. He has extensive experience in the electronics industry, previously serving as store manager, sales manager and sales supervisor for Best Buy in Honolulu, Virginia and Washington D.C.
» Colliers Monroe Friedlander has hired Joy S. Funakoshi as controller. She will be responsible for fiscal real estate services for a range of commercial properties, ranging from institutional clients to private local owners. She previously served as a senior manager at Deloitte & Touche and as assistant controller and director for C. Brewer and Company. She has 20 years of accounting experience.
» Aloha Pacific Federal Credit Union has hired Rene H. Yamaguchi as compliance assistant. She will assist in the coordination of the credit union's overall compliance with applicable federal and state rules, regulations and statutory requirements. She previously served First Hawaiian Bank's wealth management group overseeing probate and guardianship accountings.
» The Sheraton Waikiki has named Ryan Loo as executive sous chef for the Hanohano Room. He began his career with Starwood Hotels & Resorts Hawaii in 1999 and has served at The Royal Hawaiian Hotel, Hoku's in the Kahala Hotel and the Greenbrier Resort in West Virginia.
---
BUSINESS PULSE