---
FAST FACTS HAWAII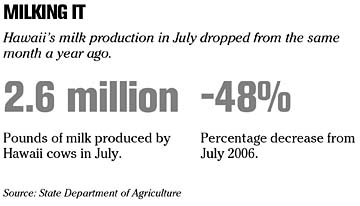 ---
HAWAII
Successories closing at Ward Successories, a boutique offering framed motivational quotes, books and art, is closing its doors at Ward Centre on Saturday after 13 years in business.
MIlt and Linda Andrade Wheeler have decided it was time to close the retail store, focusing instead on online sales on their Web site, www.successhawaii.com.
Milt Wheeler, 66, said it was itme to retire and watch the grandkids.
Linda Wheeler, the author of several books including "Ain't Life an Artichoke; It takes a lot of peeling to get to the heart, that is the best part," will continue to offer corporate training.
The store is selling all of its fixtures, and offering an up to 70 percent merchandise sale, until closing this weekend.
NATION
Lender bounces tax checks NEW YORK » American Home Mortgage Investment Corp. bounced property tax checks for some Maryland homeowners, local and state officials said yesterday, and they have demanded an explanation from the bankrupt mortgage lender and servicer.
The Maryland Commissioner of Financial Regulation filed an inquiry with American Home Mortgage on Friday. Melville, N.Y.-based American Home Mortgage has five days to respond to the letter, said Joseph Rooney, the deputy commissioner for Maryland's financial regulator.
Officials in New York and Washington state are also looking into bounced checks there.
Landmark nuke plan expected
WASHINGTON » Power producer
NRG Energy Inc.
will submit the first application for a new nuclear reactor in the U.S. in nearly 30 years, the company's chief executive said yesterday.
Nuclear regulators expect today to receive NRG's application for two new units at its facility in Bay City,Texas, about 90 miles southwest of Houston. It will be the first complete construction and operating license submission the government has processed since before the Three Mile Island accident in Pennsylvania in 1979.
Constellation Energy Group Inc. has filed a partial application with the Nuclear Regulatory Commission, which expects up to six more requests this year from Duke Energy Corp., Dominion Resources Inc. and others.
Prowler to Growler
The Pentagon is spending $9 billion to replace its Prowler aircraft with the Boeing EA-18G Growler, an aircraft outfitted with electronic warfare gear derived from the F/A-18 fighter.
BRIEF CASE
Google's turn.
European Union regulators set an initial Oct. 26 deadline to look at Google Inc.'s $3.1 billion bid for online ad tracker DoubleClick.
Apology accepted. China's state media welcomed U.S. toy maker Mattel's apology over its recalls of Chinese-made toys, saying that although overdue it should help restore the country's sullied export reputation.
Stepping down. General Mills Chief Executive Officer Steve Sanger is stepping down effective immediately, the nation's second-largest cereal maker said yesterday.
Dell courts China. Dell Inc. announced a deal yesterday to launch a retail presence in China by selling computers through the country's biggest chain of electronics stores.
---
BUSINESS PULSE