---
FAST FACTS HAWAII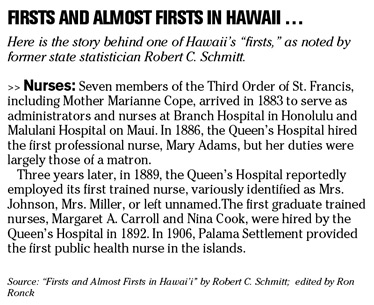 ---
NATION
Drivers waste a week in traffic
WASHINGTON » Drivers waste nearly an entire work week each year sitting in traffic on the way to and from their jobs, according to a study released last week.
The nation's drivers languished in traffic delays for a total of 4.2 billion hours in 2005, up from 4 billion the year before, according to the Texas Traffic Institute's urban mobility report. That's about 38 hours per driver.
"Things are bad and they're getting worse," said Alan Pisarsky, a transportation expert and the author of "Commuting in America." "We've used up the capacity that had been bequeathed to us by a previous generation, and we haven't replaced it."
The study estimates that drivers wasted 2.9 billion gallons of fuel while sitting in traffic. Together with the lost time, traffic delays cost the nation $78.2 billion, the study estimates.
Cash disappears like magic
Have you ever withdrawn $60 from the ATM on Monday, only to find your wallet empty by Friday with nothing to show for it?
You're not alone. Nearly half of Americans say they lose track of about a third of their cash in typical week, a new survey by Visa has found.
"When you start thinking about how much you take out and how much you end up with at the end of the week, it's not that surprising," said Visa spokesman Wayne Best.
Men under age 35 are the worst at monitoring spending, failing to account for more than $3,000 a year on average. About 20 percent of respondents confessed to misplacing more than $25 in cash per week and said their mystery spending is "out of control," while 62 percent said small cash purchases make it difficult to track spending.
Where do all those dollars go? The most common responses were a night on the town, grocery shopping, family outings, and shopping with friends.
The random telephone survey was conducted in May and included more than 2,000 adults.
You need to be the bigger person
Next time you find yourself negotiating with a hostile co-worker, fight the urge to zing him with a wisecracking comment. If you want that raise or help with a project, you'll have to be the bigger cubicle mate.
"You really need to find out where that person is coming from," said Michael Donaldson, author of "Fearless Negotiating: The Wish-Want-Walk Method to Reaching Agreements that Work."
Instead, ask questions, listen carefully, and take a break if things get heated, he said.
Hostility typically stems from a lack of preparation or insecurity, so try to address the source of your co-worker's yelling or bullying. Ask why the delivery schedule you suggested won't work, or why your request for a raise is upsetting her, for example.
Avoid the common advice to call a hostile co-worker on their bad behavior, Donaldson said. Even if they calm down, you've lost a valuable opportunity to understand why the person is upset, he said.
"You're not in the business of behavior change," Donaldson said. "You just want to manage the negotiation."
Spend money to make money
If you're looking for a higher-paying job, be prepared to shell out a few bucks first.
According to a new survey, 95 percent of job seekers spend $100 to $500 to find a new gig, with most of the costs stemming from interview expenses such as clothing, travel and lodging.
Respondents also cited lost wages from taking time off from existing jobs as a major expense.
Fifteen percent of respondents spent $1,000 to $4,000, and 7 percent coughed up more than $5,000 to land a new position, according to the nonscientific survey by Experience Inc., a career Web site for college students and alumni.
More than a third found a job in fewer than three months, while 18 percent held out for up to a year. Nearly 60 percent accepted a job in a new city, state or country.
In the end, the costs are worth landing a job you love, said Janet Sun, vice president of marketing for Experience.
"You're only going to be successful and happy if you find something you like to do," she said.
The online survey was conducted in August and included more than 200 college graduates.
---
BUSINESS PULSE