BOOK REVIEW
Author leads travelers on historical treasure hunt
If Japan is a land of secrets, then expect Tokyo's secrets to be well hidden beneath the brutal gray concrete of this modern metropolis. Founded by the first great shogun more than 400 years ago and reduced to rubble many times by earthquake, fire and urbanization, the heart of this city now beats with neon veins, railway arteries and hordes of humanity.
"Tokyo: Exploring the City of the Shogun"
by Sumiko Enbutsu

(Kodansha International)

$24.95
A traveler entering the hubbub of Tokyo streets for the first time might expect to be immersed in Asian exotics. Instead, expect to find KFC and Starbucks, ubiquitous markers of an international city, at every train station. If an Italian handbag or an American burger at Ma-ku-do-na-ru-do is what you seek, a plethora of venues await.
But if you are like me, you will be looking deeper, hoping to find a reflection of history in a hidden garden or a hint of native culture in the dusty back streets behind the modern sameness. To find the remaining remnants of the shogun's reign, you will need a native guide, an expert, an informant. To unwrap this city's secrets and build memories of the unusual, take a walk with one of Japan's foremost connoisseurs of culture, leading you to deeper insights and rare taste sensations.
Tokyo native, author and enthusiastic walker Sumiko Enbutsu will be your guide. Her new book, "Tokyo: Exploring the City of the Shogun," will lead you on a week's worth of foot-bound exploration that is anything but pedestrian. Along the way, striking photographs by prominent cameraman Katsuhito Nakazato provide visual poetry.
Skip the teeming tourists elbowing their way up Tokyo Tower and follow Enbutsu to the historic stone staircase noted in tales of heroic horsemanship near the tower's base. "In 1634, Magaki Heikuro swiftly rode his horse up and down the grade to fetch branches of plum blossoms from the hilltop for the third shogun, Tokugawa Iemitsu," she writes. The famous, withered plum tree lives on, and you will find it if you follow the easy, step-by-step instructions and detailed maps in Enbutsu's glossy, softcover book.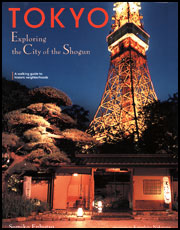 Each chapter begins with a section entitled "Then," full of captivating historic notes on the neighborhood in focus. Enbutsu conjures up images of the ancient castle city, complete with its lords and craftsmen. Imagine the open fields and farmlands of old -- now flattened, paved and shaded by skyscrapers. In just a few pages your eyes enter the "Now" section, where special places are explored and memorable eateries discovered.
I walked the back streets of Tokyo with this book in hand. I turned down a little alleyway that few tourists would attempt. Past quiet and quaint old wooden homes and an ancient community water well, the late afternoon sun lit up a rare Himalayan cedar. A sharp turn to the right and an artist's studio awaited exploration. A few steps and a "kura," a traditional two-story wooden storehouse, stood against the pressure of urban renewal, just barely. Then, an old-fashioned wall made of broken roof tiles, a sculpture museum, a community market street with a bamboo craft shop, tasty snacks from street vendors, each a treasure explained by the perceptive pen of Enbutsu.
When in Tokyo, forget the cup of coffee, fried chicken and burger. Those are equally forgettable in any city. Now the secrets of the shogun's city have been told. See them for yourself before they are buried deeper beneath Tokyo's unrelenting impulse to rebuild itself.