| | |
| --- | --- |
| | Newswatch |
---
Baby drink gets health warning
The state Department of Health warns that an herbal supplement used to ease babies' bellyaches may be the source of intestinal infection.
The state yesterday advised consumers not to drink apple-flavored Baby's Bliss Gripe Water distributed by MOM Enterprises of San Rafael, Calif.
The product may contain cryptosporidium, a parasite that can cause intestinal infections, according to a release. The manufacturer is cooperating with a Federal Drug Administration investigation into the cause of the contamination and is recalling the product.
The state has received no confirmed reports of illness connected with the supplement which is used to ease the gas and stomach discomfort associated with colic, hiccups and teething. Symptoms include watery diarrhea, stomach pains or cramps, fever, nausea and vomiting. Parents whose children consumed the product and have those symptoms should seek immediate medical attention.
Further information is available at www.fda.gov.
Aircraft traffic to increase
State transportation officials advise Honolulu and West Oahu residents of an increase in aircraft traffic because of maintenance on a Honolulu Airport runway. The runway will be closed from 10 p.m. Monday through 6 a.m. Tuesday, causing flight patterns for incoming and outgoing flights to be modified.
Isles tough on underage sales
Hawaii continues to have among the lowest rates in the nation for illegal tobacco sales to minors.
Of 232 stores that were randomly surveyed in the state, 20 stores or 8.7 percent illegally sold cigarettes to minors.
The survey was done during a two-week period in April. Teams were made up of youth volunteers age 15 to 17 and adult observers who visited the stores.
The youth volunteers attempted to buy cigarettes to determine how well retailers were complying with the state tobacco laws. Teams checked whether clerks asked for their age or for identification.
During the same two-week period last year, 13 stores or 5.9 percent of the 221 stores that were surveyed were noncompliant.
"Although statistically it is not considered a significant increase, even a small noncompliance rate is of concern," said Michelle Hill, deputy director of the Behavioral Health Administration, in a news release. Officials hope to further lower the noncompliance rate to zero.
Hawaii tied with Maine for third for the best in the nation that are in compliance, with Delaware and Arkansas producing better results, according to state officials.
Awareness of tobacco sales to minors vastly improved over the years. In 1996, the noncompliance rate in the state was 44.5 percent.
---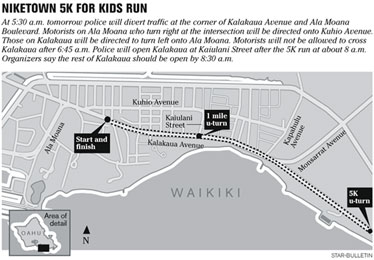 ---
Affordable rentals dedicated
A dedication ceremony was held yesterday for the Courtyards at Mililani Mauka, a 48-unit affordable rental complex.
The six-building complex is the result of a partnership between the state and the private sector to develop more affordable housing.
The Hawaii Housing Finance and Development Corp. provided more than $10 million in federal and state low-income housing tax credits during 10 years to help fund the project. In turn, the complex will remain affordable for the next 30 years.
The rental units are targeted for families whose incomes are at or below 60 percent of Oahu's median income. Proposed monthly rents are $737 for a one-bedroom unit, $879 for a two-bedroom unit and $1,008 for a three-bedroom unit.
The Courtyards at Mililani Mauka is located at 95-1015 Koolani Drive.
Mayor Kim's aide intends to run
HILO » William "Billy" Kenoi, an aide to Big Island Mayor Harry Kim, has announced his candidacy for mayor next year.
Kenoi's current duties range from administering the fight against crystal methamphetamine to fighting invasive coqui frogs.
Big Island-born Kenoi graduated from Waiakea High School in 1986, earned a degree from the William S. Richardson School of Law in 1996, and spent four years as a public defender on Oahu before becomes Kim's aide in 2000. In March, Hawaii Business Magazine named him among "25 People for the Next 25 Years -- Hawaii's Bright People and Bright Future.
" Others who have announced for the nonpartisan mayor's post are former Mayor Lorraine Inouye, former County Council Chairman Stacy Higa, and Kona Councilman Angel Pilago.
| | |
| --- | --- |
| | Police, Fire, Courts |
---
HONOLULU
Boy in custody accused in attack
A 16-year-old boy was booked for assault last night after allegedly attacking two judiciary workers.
About 8 p.m. at the Alder Street juvenile detention facility, the suspect, who is in custody there, allegedly assaulted two workers. Both men suffered visible minor injuries, and police said there was no apparent reason for the alleged attack.
The boy was booked in suspicion of second-degree assault.
WAIKIKI
Man seen in midst of alleged break-in
Police arrested a 30-year-old man after he was seen allegedly trying to break into a car in Waikiki.
Police said that at about 1:30 a.m. yesterday, a witness told a neighbor that a man was in the neighbor's car in an apartment complex parking lot.
Police said the victim then confronted the suspect, who got out of the car and jumped a wall to escape.
Police caught the suspect a short distance away on Kalia Road and arrested him on suspicion of unauthorized entry into a vehicle.
CENTRAL OAHU
Estranged spouse kidnapped at home
Police arrested a 41-year-old man who allegedly kidnapped his wife Thursday night.
At about 9:30 p.m., the man arrived at his 35-year-old wife's home on Ololu Street in Mililani. Police said the two are separated. The man insisted that the wife go for a ride with him in his truck.
The woman, scared of her husband, climbed into the truck, but later tried to escape twice, police said. The man allegedly dragged her back into the truck both times until her mother came home.
The mother called police, who arrested the suspect on suspicion of kidnapping.