| | |
| --- | --- |
| | Wood Craft |
---
Hawaii group receives help from mainland in fundraiser
A long shot paid off for Hui Po'okela, the UH chapter of Mortar Board, a national college senior class honor society. The chapter held a huli huli chicken fundraiser to support Hawaii immersion schools. Chapter president
David Pesquira
pitched a National Chicken Fundraiser Challenge to the 200 Mortar Board chapters when he attended the national conference in Chicago in late July.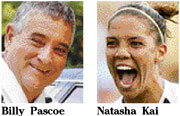 It would not be possible to deliver the chicken to mainland chapters so it was decided to give any chicken purchased by mainlanders to the Institute for Human Services to feed the homeless. Some chapters felt it was not right to donate food to Hawaii's homeless instead of their own. But the Hope College, Mich., chapter's adviser,
Dianne Portleet
, had relatives who attended UH. She organized a fundraiser that took in $2,500, enough to provide one meal of huli huli chicken for 1,320 Hawaii homeless people. And the money went to the immersion schools. What a deal ...
"What Hawaii Likes to Eat," the collection of favorite local recipes written by the Star-Bulletin's "By Request" columnist Betty Shimabukuro and cookbook author Muriel Miura, is drawing many buyers to the Star-Bulletin newsroom in Building 7, Suite 210, in Restaurant Row. The books sell for $20 through Oct. 1, $8.95 off the cover price. They are also on sale at Mutual Publishing Co., 1215 Center St., and will be in bookstores on Oct. 15 ...
Islanders are pictured in national ads
Thumbing through Town & Country's fall travel issue, I came across a photo of longtime friend
Billy Pascoe,
featured in a full-page ad for the Kahala Hotel and Resort. Billy has been a doorman at the hotel for 39 years, starting when it was originally known as the Kahala Hilton. He has won awards for his work ... Chef
Roy Yamaguchi
also is pictured in a full-page ad in the T&C travel issue. The owner of Roy's restaurants turns up in many national publications.
Al Hosoi
, former G.M. of Ruth's Chris at Restaurant Row, has joined Roy's on Waikiki Beach Walk and is on G.M.
Diva Schroeder's
management team.
Lou Persson
and
Kelli Kojima
are the other managers ... Soccer queen
Natasha Kai
, a member of the U.S. Women's National Team, is also getting national exposure. The North Shore athlete is pictured in Nike ads ...
Ben Wood
, who sold the Star-Bulletin in the streets of downtown Honolulu during World War II, writes of people, places and things in our Hawaii. E-mail him at
bwood@starbulletin.com