Pacific Park Plaza to be sold by California developer
The Pacific Park Plaza, a 16-story glass office tower and adjacent low-rise Kaiser Permanente building, on the corner of Kapiolani Boulevard and Cooke Street, is expected to be sold next month by its California-based owner and developer.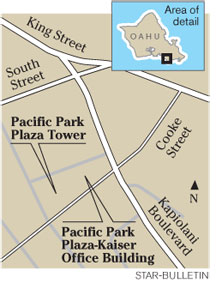 The 213,000-square-foot office building, at 711 Kapiolani Blvd. between downtown Honolulu and Ala Moana Center, was built in 1989 by Transpacific Development Co., an affiliate of owner TMS-Curci LLC.
Transpacific in 1988 also developed the adjacent two-story, 40,000-square-foot building, which is fully leased to Kaiser Foundation Health Plan Inc.
The buildings' assessed value is $36 million, according to county records. The land beneath the 1.8-acre site is owned by the Harry and Jeanette Weinberg Foundation Inc.
Tom Irish, president of Torrance, Calif.-based Transpacific, and the Pacific Park Plaza's leasing agent, CB Richard Ellis, declined to comment.
The sale, which was expected to close this month, has been delayed in escrow and is now scheduled to close next month, according to local brokers.
Transpacific currently manages the office tower, which houses the State Liquor Commission and Kaiser Permanente's regional headquarters and about 38 other tenants including ADP, Crawford & Co., GEICO, Hawaiiana Management Co. Ltd., the Office of Hawaiian Affairs, the City & County of Honolulu, ING North America Insurance Corp., Liberty Mutual Insurance Co. and Progressive Casualty Insurance Co.
TMS-Curci owns the 0.8-acre land lease beneath the property's five-story, 550-stall parking garage.
The buildings are the last Hawaii holdings for TMS-Curci. Transpacific developed some distribution warehouses years ago at Campbell Industrial Park, however, the Kapiolani buildings have been the company's only Hawaii assets for the past 15 years.