Cyanotech quarterly loss widens to $382,000
Cyanotech Corp., whose stock fell yesterday to an all-time low of 87 cents, said after the market closed that its fiscal 2008 first-quarter loss slightly widened following a year of filing delays due to an internal accounting probe that resulted in three years of restated earnings.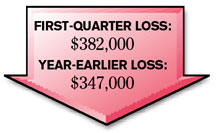 The Kona-based producer of nutritional products had a net loss of $382,000, or 7 cents a share, in the fiscal quarter ended June 30, compared with a net loss of $347,000, or 7 cents a share, a year earlier.
Revenue rose 5.7 percent to $2.6 million from $2.4 million, primarily on the strength of a 79 percent increase in sales of BioAstin, an astaxanthin that has been shown to be a potent antioxidant with anti-inflammatory properties.
Sales of NatuRose, an astaxanthin used in animal feeds, fell 90 percent and continued revenue declines in the Japan aquaculture market prompted Cyanotech to discontinue all business activity of its wholly owned Japanese subsidiary, CJYK. All aquaculture feed business was absorbed through Cyanotech's domestic operations.
Sales of Spirulina, a whole microalgae rich in many nutrients, including antioxidants such as beta-carotene, slipped 0.6 percent.
Gerald Cysewski, chairman, president and chief executive of Cyanotech, said the company is improving its product mix and plans to focus on human nutrition products and higher-margin branded products, particularly BioAstin.