---
FAST FACTS HAWAII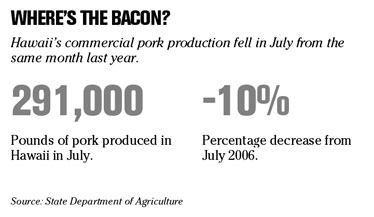 ---
HAWAII
Summit to address emergencies
A Federal Communications Commission summit on Tuesday will address the management of communications networks during mass emergencies.
The commission's Public Safety and Homeland Security Bureau hopes to examine how communications networks are managed as well as steps the public can take to ensure use of wireless devices during crises.
The Summit on Communications Network Surge Management will include an FCC presentation titled, "Commercial Network Response in Emergencies," as well as a roundtable discussion to include wireless telecommunications providers, the National Association of Telecommunication Officers and Advisors and the Resource Center for Deaf and Hard of Hearing Persons.
A live Webcast of the event may be accessed at www.fcc.gov from 3:30 to 9:15 a.m. Tuesday.
NATION
Google stock hits record high
SAN FRANCISCO »
Google Inc.
's stock reached a new high yesterday, reflecting Wall Street's renewed faith in the Internet search leader as it introduces new ways for advertisers to reach its steadily expanding online audience.
The shares peaked at $560.79 before falling back to finish at $560.10, up $7.27, or 1.3 percent. The rally eclipsed Google's previous record high of $558.58 attained in mid-July, just days before the Mountain View-based company disillusioned investors with a second-quarter profit below analyst estimates.
Google, founded just 9 years ago, now has a market value of almost $175 billion, more than long-established technology bellwethers like Hewlett-Packard Co. and IBM Corp. The stock has increased by more than six-fold from its initial public offering price of $85 in August 2004.
Home Depot says it won't cut jobs
ATLANTA » The
Home Depot Inc.
doesn't plan to make any broad-based job cuts or reduce the number of its core retail stores in the face of a persistent housing slump that isn't expected to improve anytime soon, Chief Executive Frank Blake said yesterday.
Blake told the Associated Press that the Atlanta-based company's focus on customer service means more employees, not fewer, will be needed.
While Home Depot said earlier this week it was closing its 11 Landscape Supply stores and in the past it has shut a number of its Expo design centers, Blake said there are no plans to close any of the company's more than 2,000 core retail stores.
WORLD
HSBC to close mortgage unit
LONDON »
HSBC Holdings Plc
, the U.K. bank that was among the first to disclose soured U.S. home loans seven months ago, will shut its Decision One subprime mortgage unit and eliminate 750 jobs.
Employees in Phoenix, Charlotte, North Carolina, and the U.S. unit's Fort Mill, South Carolina, headquarters will be affected, London-based HSBC said yesterday.
More than 110 companies in the U.S. have halted some mortgage operations or exited the business since the start of 2006 amid the worst housing slump in 16 years, a rise in overdue payments and record foreclosures.
---
BUSINESS PULSE