| | |
| --- | --- |
| | Island Mele |
---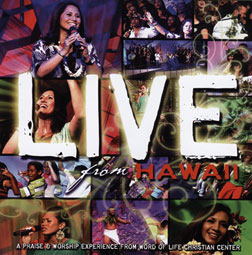 "Live From Hawaii"
Word of Life
(Word of Life)
The Word of Life Praise & Worship Team puts its Christian message in recorded form with the release of this collection of contemporary religious music.
"Oli/E Hawai'i E" is a solid introduction as it establishes the theme with a chant praising God and the beauty of Hawaii. The songs that follow are a mixed bag. Almost all sound like they were recorded "live" during worship services where worship leaders exhort the faithful to "get your praise on!" Some consist of earnest, albeit awkward, "praise" set to a simple melody. Others are more substantial.
Dream Nation with Or1ginal gives "Season of the Lord" an authentic hip-hop edge that includes a stream of scriptural references that should inspire listeners to open their Bibles. Fiji gives "Palm of my Hand" a solid gospel foundation, and "Bless You Lord (Hawaiian Praise)" works surprisingly well as a Jawaiian "praise song" sung partly in Hawaiian.
---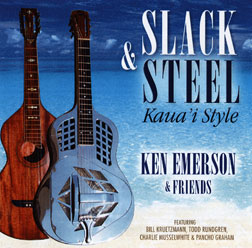 "Slack & Steel Kaua'i Style"
Ken Emerson & Friends
(HanaOla)
Kauai resident Ken Emerson made two significant contributions to local music almost 30 years ago. He recorded an album of acoustic Hawaiian music with his brother, Phil Emerson, in 1979, and then backed Moe Keale on Keale's career-best solo album, "South Sea Island Magic," in 1980.
Both albums demonstrated the beauty of early 20th-century Hawaiian music and the acoustic steel guitar at a time when local radio wasn't playing much of either. The moment passed, but Ken has continued to play acoustic steel and slack-key guitar. This aptly titled album displays the beauty of both instruments in interesting ways.
A fresh yet retro arrangement of "Sleepwalk" features the classic sound of the acoustic steel guitar. Santo Farina played an electric instrument when he recorded the hit version in 1959; Emerson shows how the song might have sounded if it had been recorded 40 years earlier.
Emerson's imagination as an arranger is seen in "Small Axe" and "Theme From 'The Endless Summer.' " There's no hint of reggae in the former and very little trace of the Sandals' thematic guitar riffs in the latter.
Two other songs give voice to Emerson's social consciousness. A gentle treatment of " 'O Akua," John Kalani Lincoln's account of Hawaiian history, decries the alienation of native Hawaiians from their land and traditional culture. Updated lyrics add an acidic nationalist vibe to "Manuela Boy" as Emerson comments on the contemporary problems of crime and the high cost of living here.
Emerson shows his respect for tradition elsewhere. Traditionalists will enjoy his work on "Sand," "Nani Kaua'i" and "Ulili E." "Feelin' No Pain" is significant twice over -- first as an update of an acoustic steel classic from the 1920s, second as the recording-studio reunion of Emerson and his brother.
Detailed annotation -- including essential information on the slack-key and steel-guitar tunings -- completes this beautiful collection of Hawaiian music played "Kauai style."
---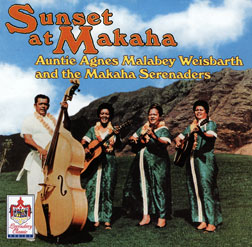 "Sunset At Makaha"
Auntie Agnes Malabey Weisbarth
and the Makaha Serenaders
(Hula)
A tremendous amount of Hawaiian music became unavailable when 78 rpm records went out of print in the 1950s, and many more titles disappeared from the shelves when vinyl albums were replaced by CDs in the late 1980s. This meticulously annotated and updated reissue of a 1971 vintage album is another welcome step in reversing that inevitable process.
"Auntie Aggie" Weisbarth and her Serenaders were an acoustic quartet that often performed as strolling musicians. Don McDiarmid Jr. captures their traditional sound and repertoire perfectly with the 12 songs here. Most showcase the group's harmonies; many also feature Weisbarth's powerful high soprano. Some are family songs from the collection of her hanai mother; others are standards.
Anyone who enjoys the music of contemporary groups like Na Palapalai will find here the traditions that they're building on "roots music" of today.
Hula Records is known for thoroughly documenting Hawaiian music with lyrics, translations and background information. Kini Sullivan's original liner notes include direct translations, while only hinting at the kaona (hidden meanings). Newly added information brings this reissue up to date.
John Berger
, who has covered the local entertainment scene since 1972, writes reviews of recordings produced by Hawaii artists. See the Star-Bulletin's Today section on Fridays for the latest reviews. Reach John Berger at
jberger@starbulletin.com
.