'Rock Star Fridays' gets reborn into 'F.U.B.A.R. Fridays'
BUSINESS IS about to pick up on Friday nights at Fashion 45. After more than two years of catering to the barely-legal crowd with "Rock Star Fridays,"
Russ Inouye
and his cast of characters from the
Vertical Junkies
take their party to another level with a move to the Waikiki Trade Center.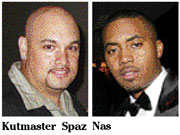 "Rock Star Fridays" originally called the Hard Rock Cafe home, before moving to Brew Moon last December. The VJ crew pulled the plug on Aug. 31, opting for a few weeks off before getting back to the grind.
The new weekly is called "F.U.B.A.R. Fridays," and won't mess too much with the formula that's provided hundreds (if not thousands) of drunken hookups for the college crowd. Doors open at 10 p.m. on Friday, with no cover before 11 p.m. and every drink at the bar priced at $3 before midnight.
And get ready for a new partnership between the Junkies and "SKYLiNE" promoters Flash Hansen and Matty Hazelgrove -- they've teamed up to host Thursday nights at Señor Frog's Waikiki, starting in October ...
MORE PICKS for Friday: NextDoor hosts "KARMA-1," a benefit for the Honolulu Zoo Society, from 7 to 9:30 p.m. Tickets are $20 and include pupus from Memoirs Hawaii, a performance by Ginko Maraschino and DJs mr.nick, Zacharijah and Shoe on the decks. Money raised will help build a new Sumatran tiger habitat ... "The Indie Rocker + Soul Shocker SoundClash" lands at the Mercury Bar, with DJs Vagina and Dougie spinning between sets by Dolls till Daylight and ctrl+alt+del ... And thirtyninehotel hosts its last "Frequency" party with DJs Eskae, Davy Shindig, Matt Ratt and Ross Jackson on the decks. Hostess Ara Laylo will move on to promote parties at new nightclub the Loft starting next month ...
KUDOS TO EliteXC, ICON Sport and Rumble World Entertainment, the companies behind last weekend's "EliteXC: Uprising" mixed martial arts event at the Blaisdell.
Saturday's fights marked the first time Hawaii MMA was featured on live TV, with the event broadcast live to the East Coast on Showtime. Almost every matchup was exciting, especially local boy "Iron" Mike Aina's near-defeat of Nick Diaz.
If you missed "EliteXC: Uprising," Showtime will present a free preview from Sept. 28 to 30, with a repeat of the fights scheduled for 11:30 a.m. Hawaii time on Sept. 29 ...
CONGRATS ALSO to local filmmaker Jared Matsushige, who won $5,000 in an online competition last month.
Web site OurStage.com hosts monthly contests to "support and accelerate the careers of emerging independent artists." Along with the cash, Matsushige will receive screening opportunities for his entry, "Toilet Story," at various venues around the country.
Want to watch the animated movie? Visit my blog for the link ...
MORE PICKS: Fifth & Vogue Entertainment and Dis-N-Dat Media Group partner to host "Eclipse" at Indigo on Saturday, with a live performance by Dorian Wright and DJ Kutmaster Spaz on the decks ... New York-based alt rockers Brand New play Pipeline on Tuesday ... Afatia Thomspon, Lalea, Mana'o Company, Ma'ohi Nui, Onward and DJ Aeon will perform next Thursday at Pipeline during "Funrayjah," a benefit concert for Roy W.S. Maiava ...
COULD IT be true? Is Nas really coming to Hawaii?
That's a rumor that has swirled among local hip-hop fans during most of 2007, but I can finally report that it looks like the show is going to happen.
Despite an opportunity to perform with the Wu-Tang Clan at "Rock the Bells" earlier this month (he was a featured performer during many of the tour's mainland stops), it appears Nas has us penciled in for Oct. 27 at Pipeline Cafe.
According to the club, the chances of next month's show happening are "almost 100 percent." Promoter Echelon Entertainment did not respond to a request for comment earlier this week ...