State No. 12 in income growth
Hawaii registered a 1.5 percent growth in personal income between the first and second quarters of this year, according to the latest report by the U.S. Bureau of Economic Analysis.
That growth rate puts Hawaii at No. 12 nationally, and a state economist says it also puts Hawaii residents ahead of current inflation forecasts.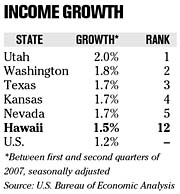 Utah, Washington, Texas, Kansas and Nevada fared even better, ranking in the top five in personal income growth during the same period.
That growth, while positive for the state, is tempered by an inflation rate that is higher than the national average, as well as a gloomier economic forecast.
Consumer prices for Honolulu went up 5 percent over last year, according to statistics released by the U.S. Bureau of Labor Statistics in August, more than double the 2.4 percent gain for the entire nation.
Housing went up 7.7 percent overall, with rent jumping 9.6 percent, while the cost of food and beverages, groceries and eating out all went up in the 6 percent range over last year.
State economist Pearl Imada Iboshi said, however, that the second-quarter personal income growth rate, which works out to 6.6 percent over the same quarter last year, is better than expected.
It comes out higher than the inflation rate, which she forecasts at about 4.5 percent for 2007.
"Our expectation was that growth would be about 2 percent for the year in inflation-adjusted terms," she said. "These adjustments for 2007 are slightly above that, which is very good."
The state still expects personal income growth to slow down next year, she said.
Across the U.S., personal income in the second quarter of this year was 6.4 percent higher than the same period in last year. It grew at a 1.2 percent rate in the second quarter of 2007, following a 2.5 percent growth in the first quarter.
Personal income growth in all regions of the country, however, slowed down.
Construction, health care/social assistance and accommodation/food services were among the highest contributors to income growth in Hawaii in the second quarter.