---
FAST FACTS HAWAII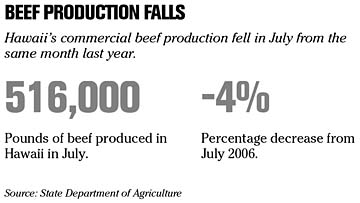 ---
NATION
Mortgage rates edge back up WASHINGTON » Rates on 30-year mortgages, after dropping to their lowest point in four months, edged up this week.
Freddie Mac, the mortgage company, reported today that 30-year, fixed-rate mortgages averaged 6.34 percent this week, up slightly from last week's 6.31 percent, which had been the lowest level since May 17.
Rates on 15-year fixed-rate mortgages averaged 5.98 percent this week. Rates on five-year adjustable rate mortgages averaged 6.21 percent, while one-year ARMs averaged 5.65 percent. A year ago, 30-year mortgages stood at 6.4 percent, 15-year mortgages were at 6.06 percent, five-year ARMS averaged 6.08 percent and one-year ARMs were at 5.54 percent.
Nasdaq to sell stake to Borse Dubai
NEW YORK >>
Nasdaq Stock Market Inc.
struck a complex deal to sell a 20 percent stake to the state-owned Borse Dubai in return for control of Sweden's leading stock market, but the plan met with some questions from U.S. politicians concerned it would raise security issues.
The sale of the Nasdaq stake is part of a flurry of cross-border handshaking unveiled yesterday that holds potential to remake the already shifting landscape of global stock exchanges.
If enacted, the Nasdaq deal would let the exchange meet a long-held goal of planting a flag overseas as its larger rival, the New York Stock Exchange, did this year with the acquisition of Paris-based Euronext.
GM and union continue talks
DETROIT » Negotiators for
General Motors Corp.
and the United Auto Workers, trying to craft a new contract, are still discussing the automaker's proposal to pay the union to form a trust and take over the company's huge retiree health care obligation, according to two people who have been briefed on the talks.
The people, who spoke on condition of anonymity because the talks are private, said noneconomic issues, which include grievance procedures, absenteeism and other items, had been settled.
The discussions about the trust took place even though UAW President Ron Gettelfinger on Tuesday rejected a GM offer on the trust, called a Voluntary Employees Beneficiary Association, or VEBA, according to one of the people briefed on the talks.
Oracle profit tops expectations
SAN FRANCISCO » Business software maker
Oracle Corp.
overcame the recent economic turbulence that raised recession anxieties to deliver a fiscal first-quarter performance that topped analyst expectations.
The Redwood Shores-based company said yesterday that it earned $840 million, or 16 cents per share, for the three months ended in August. That represented a 25 percent improvement from net income of $670 million, or 13 cents per share, at the same time last year.
If not for stock option expenses, Oracle said it would have made 22 cents per share -- a penny above the average estimate of analysts polled by Thomson Financial.
Subsidiary sale
Nike said yesterday that it plans to explore the sale of its Nike Bauer Hockey subsidiary. Also, the company reported net income of $569.7 million, or $1.12 per share, for the quarter ended Aug. 31, up 51 percent from $377.2 million, or 74 cents per share, for the same period a year earlier.
BRIEF CASE
Beating estimates.
Goldman Sachs Group Inc. yesterday reported third-quarter results well ahead of Wall Street projections, as the world's largest investment bank took full advantage of its diversity to overcome a debt crisis. Rival Bear Stearns Cos. wasn't as lucky.
---
BUSINESS PULSE