---
NO MORE NO MORE
Aerosmith Maui concert canceled
Promoter Tom Moffatt's office was notified that the Wednesday Aerosmith concert at the Maui War Memorial Stadium was off. As of late yesterday afternoon, Moffatt's office received no official word from the band's management as for the reason for the cancellation.
The Maui Arts & Cultural Center Web site reports that tickets, either bought with cash or credit card, must be returned by the actual purchaser to the Center's box office in Kahului to get a refund. (Those who paid with cash must bring their receipt as well.)
Also tickets on hold "will be automatically refunded to the credit card used for purchase, including all facility and Internet fees, as quickly as possible."
The box office's phone number is 808-242-SHOW (7469).
STYLE FILE
Sale at Waioli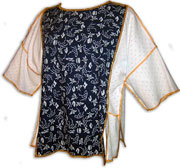 Nui Mono & Girlfriends (plus one boyfriend) will be presenting a boutique sale from 9 a.m. to 1 p.m. Saturday at Waioli Tea Room, 2950 Manoa Road, where you can shop for clothing, crafts and jewelry created by more than a dozen local artists.
The participants are Fine Things, Kim Kono, Tutuvi, Teru, Wendy Kim-Messier, Ann Asakura, Sherrie Rupert, Cora Yee, June Hee, Mitsuko Notecards, Kimona Designs, Bev Seki and Nui Mono, plus Grant Kagimoto of Cane Haul Road.
For those who just like to eat, there will also be a fundraiser bake sale for the Movement Center.
And for those who like to piece together their own creations, there will be silk-screened, pieced, stitched and embellished pieces of fabric as well.
For more information, call Nui Mono at 946-7407.
Alliway opens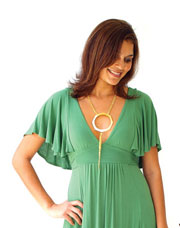 Hey, jewelry lovers, just in time for the start of holiday shopping season, Alliway has come to Ward Warehouse. No more stalking the local fairs and searching through small boutiques in search of Alli Kim-Czerniak's adventurous designs.
The boutique will have its grand opening from 5 to 10 p.m. Saturday, with the launch of a new line of fine jewelry. The first 40 people who attend will receive gift bags, and there will be drawings for three items valued between $50 and $100.
There will be discounts for shoppers, pupus and desserts provided by Satura Cakes. Call 589-1141 for information.
FM birthday
Fashionista's Market celebrates its second anniversary with a Party at Pearl, beginning at 7 p.m. Saturday.
Bacardi will be offering a Fashionista's Market signature cocktail for those who love to drink pink, and there will be a late-night fashion show with a sneak preview of what you can expect to see at FM's next sale Sept. 29 and 30 at the Japanese Cultural Center of Hawaii.
The event is for a 21-and-older crowd.
Shop open online
Designer Allison Izu has opened up shop online for her handmade women's Reincarnation tops and men's Sacred T-shirts.
Visit izushop.com to take a peek at her Obi tsuru tank top ($108) and Dragonfly puffed sleeve top ($48). Men's shirts are $22 to $28.