| | |
| --- | --- |
| | TheBuzz |
---
Dueling directories both feature hula
Somebody cue Steve Martin's character from "The Jerk," because, "the new phone book's here, the new phone book's here!"
Distribution of Hawaiian Telcom's new Oahu white and yellow pages and mobile directories begins today and upon receiving yours, you will notice headless hula dancers on the front.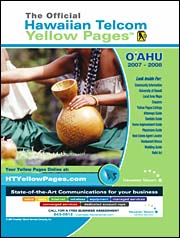 It's nothing macabre -- rather, the photo simply doesn't show their heads or faces.
The pictured dancers are on the ground and the foreground dancer is performing with an ipu. What appears to be an uli uli is positioned in front of her.
The image was chosen from the gazillion submitted to the Hawaii Visitors and Convention Bureau for its "My Hawaii Photo Gallery" contest. It invited Hawaii residents to share pictures of Hawaii's uniqueness with visitors and potential visitors via the HVCB Web site.
"We were actually drawn to the photo," said Ron Montgomery, vice president and general manager of Hawaiian Telcom Directories.
He and his colleagues were looking not to describe an individual person by showing their face, "but -- it just had movement ... we thought the hands told a great story and the whole environment was good," noting that the photo colors align with Hawaiian Telcom's colors.
HVCB helped Hawaiian Telcom hook up with photographer Barbara Gibson, who took the shot. Her bio appears in the book.
You may know that the Paradise Pages, a competitor, also features hula dancers on its covers and are thusly promoted on KSSK-FM 92.3/AM 590.
"We actually considered whether or not to use this image because of the cover image that is typically on a competitive book," Montgomery said.
"We don't think it's going to cause any confusion at all."
Works by 100 Hawaiian Telcom Keiki Art Contest winners are sprinkled throughout the directories again this year, selected from 2,100 entries.
All Oahu homes and businesses should have the new phone books by the end of October, while neighbor island directories will be distributed in January and February.
To address phone number changes along the way, Hawaiian Telcom's online directory is updated weekly.
Erika Engle
is a reporter with the Star-Bulletin. Call 529-4747, fax 529-4750 or write to Erika Engle, Honolulu Star-Bulletin, 500 Ala Moana Blvd., No. 7-210, Honolulu, HI 96813. She can also be reached at:
eengle@starbulletin.com