---
FAST FACTS HAWAII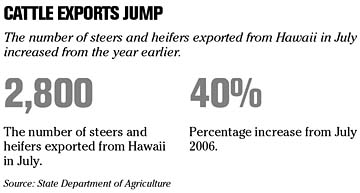 ---
HAWAII
Shops set for Ala Moana Center New-to-Hawaii national retailers J. Crew, Chico's and Vera Bradley are among the new tenants that will join Ala Moana Center's new wing, mall owner General Growth Properties said yesterday.
The developer is completing a multi-million-dollar expansion of the largest mall in Hawaii to include the state's first Nordstrom department store, slated to open in March.
The tenants announced yesterday will open up on a newly constructed, two-level concourse that will connect Ala Moana Center to Nordstrom, adding another 300,000 square feet of retail space. More stores, eventually 30 in all, will be named as leases are finalized.
Other new stores opening at the concourse include home furnishing store, Design Within Reach, Ash & Diamonds, Bare Escentuals, Blue Hawaii Lifestyle, Janie & Jack, the Kiss and Lululemon Athletica, among many others.
Aloha adds Orange County flights
Aloha Airlines
is adding a second flight between Honolulu and Orange County for the holiday season.
The new daily early morning service will begin on Nov. 16 and continue through Jan. 5, although it will not operate from Nov. 28 to Dec. 5 when one of Aloha's aircraft will be out for scheduled maintenance.
It will depart Honolulu at 7:33 a.m. and arrive in Orange County at 3 p.m. The return flight will leave Orange County at 3:55 p.m. and arrive in Honolulu at 8 p.m.
Aloha's other flight to Orange County leaves Honolulu at 12:56 p.m. and arrives at 8:23 p.m. It departs Orange County at 9:10 a.m. and arrives in Honolulu at 1:16 p.m.
In addition to Orange County, Aloha also serves the California cities of San Diego, Oakland and Sacramento, as well as Las Vegas and Reno, Nev.
NATION
Credit woes hit Morgan Stanley NEW YORK » Morgan Stanley today reported third-quarter profit sank 17 percent, as the No. 2 U.S. investment bank was forced to write down nearly $1 billion worth of loans amid the summer's global credit crisis.
Morgan Stanley, like others on Wall Street, was squeezed as borrowers with poor credit histories defaulted on home-loan payments at an alarming rate.
Excluding one month of results from Discover Financial Services, which split from Morgan Stanley in June, profit fell to $1.47 billion, or $1.38 per share, from $1.59 billion, or $1.50 per share. Stronger equity trading and investment banking fees helped drive revenue up to $7.96 billion from $7.06 billion a year earlier.
WORLD
China freezes some prices BEIJING » China's government has ordered some prices frozen and ordered officials to closely monitor others in its most drastic step yet to contain a surge in inflation.
An ordered issued late yesterday by China's top planning agency, the National Development and Reform Commission, stressed the importance of maintaining stability ahead of a key Communist Party meeting next month.
The order said all government-set prices would be frozen, though it did not specify which items that covered. The government regulates prices of gasoline and electricity, but allows those of most food items to be set by the market.
---
[ HAWAII INC. ]
New Hires / Promotions
» Aqua Hotels & Resorts has announced the following new hires:
* Audrey Amoy has been named sales manager for the Aqua Coconut Plaza. She previously served as sales manager for Hilton Hawaiian Village Hotel and Miramar at Waikiki, and as account executive for Waikiki Parkside Hotel.
* Patricia Beardeaux has been named sales support manager. She previously served as sales assistant at the Halekulani and in account work for Milici Valenti Ng Pack and Loomis & Pollock.
* May Cabauatan has been named guest services manager for Aqua Bamboo & Spa. She previously served at the King George Hotel and The Inn at Union Square in San Francisco.
» Hawaiian Properties has announced the following new hires:
* Norman Lee has been hired as senior property manager. He previously as senior property manager for Certified Management and has more than 17 years experience in supervision of major capital improvement projects, land court documentation and budget preparation.
* Chentelle Ramos has been hired as property manager. She previously served as a project accountant for Hawaiiana Management Co. and at Waipono Corp.
* Jonathan Mosqueda has been hired as property manager. He will be responsible for several Association of Apartment Owners properties on Oahu.
» Hilton Hawaiian Village Beach Resort & Spa has announced the following new hires:
* Nathaniel "Nate" Kramer has been named assistant director of human resources. He will assist in labor relations, recruitment, training and development, benefits and employee relations. He previously served as an associate at Alston Hunt Floyd & Ing's litigation and employment group.
* Phyliss North has been named assistant director of revenue management. She will oversee all revenue sources and analyze forecasts and trends in rates and inventory. She previously served as regional director of revenue management at Wyndham Hotels and has more than 25 years of hospitality experience.
Honors / Achievements
» The National Association of Realtors has awarded
Malia Siu
with the accredited buyer representation designation.
She is a Realtor affiliated with Abe Lee Realty and is one of only 32,000 real estate professionals in North America to earn the designation.
» The creators of the National Milk Mustache "Got milk?" campaign have honored Joni Marcello of Meadow Gold Dairies with the PEPPY award in the retail category at the 2007 Dairy Sales and Marketing Meeting in Minneapolis.
The awards honor outstanding salespeople and dairy representatives who success-fully implement the milk processor education program through the use of promotion, materials, research and other resources.
---
BUSINESS PULSE