Wind knocks out power and access to Tantalus
A downed power pole cut off power for 22 homes for 10 hours yesterday, and cut off access to the Tantalus area for about five hours.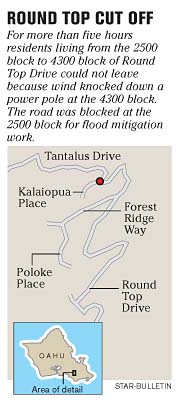 Strong winds felled a tree on the 4300 block of Round Top Drive, taking a power pole down with it. Hawaiian Electric Co. spokesman Darren Pai said the downed pole was reported around 4 a.m. yesterday.
Because of the resulting road closure, as well as another closure down the hill for an unrelated construction project, residents were unable to leave the area for about five hours.
"When there's only one blockage, there was no problem because emergency vehicles could go one way or another," said resident Joseph Gedan. "But with two blockages, the whole community is without protection."
The other closure is a result of ongoing construction to stabilize the road. Heavy rain last year caused multiple landslides along a section of the road.
Honolulu Police Department dispatch supervisor Terry Thompson said residents were being allowed through on a case-by-case basis, but that they couldn't pass based only on convenience.
The road was opened to one lane of traffic about 9 a.m. The state had to remove the tree before HECO could remove the downed pole.
Pai said 22 customers were without power until 2:25 p.m. yesterday. Only one customer was without power by that time, and repairs on the pole and lines were completed.
Gedan said he hopes the construction would be finished quickly, with yesterday's incident underscoring the urgency. Gedan and his wife were the victims of a home-invasion robbery allegedly by Adam Mau-Goffredo, who also is accused of killing three people at Tantalus last year.
"So understandably I'm very nervous about being isolated from the police or other access," Gedan said.
Initial stabilization work on the road was completed earlier this year. However, city workers found cracks in the surface that could compromise the roadway's integrity. The road isn't scheduled to be open until the end of this year.