Airport parking will get breathing room
The $39.2 million project is set to finish by December 2008
With construction starting on a new airport parking garage, many at Honolulu Airport had anecdotes of past parking woes.
Mililani resident Kinne Gonzales knows about parking problems because she goes to the airport at least once a month to pick up relatives from the mainland and Marshall Islands.
"It's good that they will have more spaces," said Gonzales, who was at Honolulu Airport picking up her niece. "Sometimes you're lucky, but it's almost always full."
The state broke ground yesterday on a 1,800-stall parking garage to supplement the airport's current 4,500 stalls. Gov. Linda Lingle said the project has received universal approval, from the Legislature to residents.
"We don't have to explain it to the public," she said.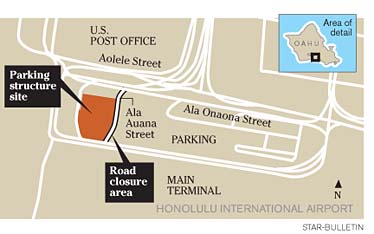 ---
The $39.2 million project is the third parking garage for the airport. The eight-story structure will be located on the current lot A between the interisland and overseas terminals.
Construction should be complete by December 2008. The airport saw about 20 million passengers last year, a third of them for interisland travel.
"The interisland parking area tends to fill up the quickest," said state Transportation Director Barry Fukunaga. "So having the new parking structure connect with the interisland garage will provide easier access to the interisland terminal."
Because of the construction on lot A starting Oct. 1, the airport will be short 45 stalls, Fukunaga said.
The whole lot will be closed, along with Ala Auana Road, which runs between lot A and the former Bank of Hawaii building. The road closure allows for employee parking to be converted into public parking during construction.
"Public parking will remain tight, but by limiting the loss of public stalls and continuing our valet parking operation, we hope to minimize the impact on the traveling public," Fukunaga said.
Fukunaga could not say whether parking rates would increase after the garage is completed because details are not final.