| | |
| --- | --- |
| | Newswatch |
---
Terry named to health agency
Ronald E. Terry, a University of Hawaii graduate who has had a 28-year career in health administration here and on the mainland, is the new administrator of the State Health Planning and Development Agency.
In announcing the appointment Monday, Gov. Linda Lingle said, "Ron has extensive experience in the planning, development and administration of health care facilities at both statewide and local levels in urban and rural communities."
SHPDA, attached administratively to the state Department of Health, regulates health care facilities, acquisitions and construction.
Former Administrator David Sakamoto left the post May 4. Darryl Shutter has been interim administrator.
Terry served the past seven years as an executive of the Stanford USD Medical Center in Sioux Falls, S.D. He focused on a strategic cardiac services plan for South Dakota, Iowa, Minnesota and Nebraska.
He previously was vice president of Wahiawa General Hospital's operations and chief operating officer for the facility's acute care medical and surgical hospital and skilled nursing home facility.
Among other positions during his career, he was formerly executive director of Hawaii Credential Verification Services Inc., owned by the Queen's Medical Center; Kuakini Medical Center; Wahiawa General Hospital; and Hawaii Medical Service Association.
Center to host Islamic teachers
The U.S. State Department awarded $300,000 to the East-West Center for a new exchange program that will bring 45 teachers from Islamic boarding schools in Indonesia to U.S. schools.
Participants in program titled, "Partnership for Schools Leading Change," will also spend a week together in Hawaii at the East-West Center to talk about "best practice" teaching methods and educational technology.
The Indonesian teachers will also travel in small groups, spending 10 days at U.S. host schools supplemented by homestays to gain cultural understanding of U.S. lifestyles and community life.
"U.S.-Indonesian Muslim ties will be strengthened through the building of professional, institutional, and personal relationships as the educators work together and share their expertise," said Namji Steinemann, the East-West Center's director of AsiaPacificEd Program for Schools in a written news release. "The relationships formed will help dispel negative stereotypes and will have a direct impact on their schools and communities."
Emergency nurses honor Inouye
U.S. Sen. Daniel Inouye has been honored by the Emergency Nurses Association for his commitment and support to advancing nursing and leadership in the nation's health care policy.
The 2007 Public Service Award was presented to Inouye yesterday by the association president, Donna Mason, at a special ceremony.
He was cited for introducing legislation to improve emergency care for children and access to advance- practice nurses under Medicare and Medicaid programs.
Among other actions, he also was noted for passage of the Native Hawaiian Education Act and Native Hawaiian Healthcare Act, which the ENA said "led to the establishment of a model health care system for access and quality care."
"I am humbled and honored to be recognized by the Emergency Nurses Association," Inouye said in a news release.
"As a wounded combat veteran, I learned firsthand of the professionalism of nurses. They kept me alive, offered me hope and helped speed my recovery and rehabilitation."
Ethnic groups promote genealogy
The Japanese Cultural Center of Hawaii and the Hawaii Hiroshima Heritage Study Group are holding a genealogy workshop from 7:30 a.m. to 3 p.m. Oct. 13 at the center.
The three-segment workshop covers subjects from basic information needed to begin genealogy research to an introduction of genealogy computer software, as well as limited Japanese translations of family documents.
This year's workshop will also feature presentations by other ethnic study groups, including the Honolulu Genealogical Society, Portuguese Genealogical Society of Hawaii and the Okinawan Genealogical Society. Cost is $50 per JCCH member; $60 per nonmember.
The fee includes a 143-page manual, lunch and refreshments and limited translation services. Registration is recommended by Oct. 1. For more information or to register, call the JCCH at (808) 945-7633 or e-mail info@jcch.com.
| | |
| --- | --- |
| | Police, Fire, Courts |
---
NORTH SHORE
Family quarrel ends in stabbing Police were looking for a man who allegedly stabbed a family member Monday night.
Police said that about 8 p.m., two men, ages 19 and 43, were arguing at a home in Waialua when the younger man stabbed the older man with a knife.
The victim was hospitalized at the Queen's Medical Center in serious but stable condition. Police said the suspect is related to the victim but they did not provide further details. Police also did not provide a description of the suspect.
LEEWARD OAHU
Man, 43, allegedly shot at neighbor Police arrested a 43-year-old Ewa man who allegedly fired a gun at his neighbor following an argument.
Police said that about 10 p.m. Monday, a 35-year-old woman got into an argument with her neighbor on Niulelo Place.
The suspect got a shotgun from his garage and allegedly fired it toward the woman and a friend. Police said the suspect fled but was later arrested on suspicion of two counts of third-degree assault, first-degree reckless endangerment, first- and second-degree terroristic threatening, firearm violations and promoting dangerous drugs.
CENTRAL OAHU
Police sketch kidnap suspect Police are asking for the public's help in identifying a man who allegedly attempted to kidnap a teenage girl who was walking to school in Mililani Monday morning.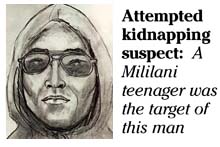 Police are providing a sketch of the suspect and are hoping someone will recognize him.
Police said the man, possibly in his 20s or 30s, approached the girl from behind about 7 a.m. Monday about a block from Mililani High School and tried to start a conversation with her.
The girl told him she did not want to talk and asked him to leave. He then grabbed her arm and tried to push her into the bushes.
The girl broke free and ran, then called police.
The man is described as 5 feet 10, weighing 160 pounds. He was wearing a light gray, long-sleeved sweatshirt with the hood pulled over his head at the time of the incident, and long pants and dark glasses.
HONOLULU
Fire at Sand Island under investigation Investigators are trying to determine what caused a fire that burned a stack of pallets outside a building housing several businesses at the mauka end of 111 Sand Island Access Road.
The fire caused a lot of smoke and heat and water damage to the building, a fire official said.
Fire Capt. Terry Seelig said 20 firefighters responded to yesterday's 1:49 p.m. fire. Heat from the fire warped the building's metal siding, causing a water pipe to break, resulting in water damage. No damage estimates were available last night.
Woman vanishes from hospital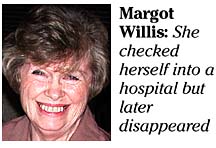 Police are asking for help in finding a 73-year-old Canadian woman with dementia and schizophrenia who disappeared from a Honolulu hospital.
Police said Margot Willis, who checked herself into the Queen's Medical Center, was last seen at 3 a.m. yesterday.
Police warned Willis may become agitated if approached.
Willis is described as Caucasian, 5 feet 3 inches tall, weighing 130 pounds, with hazel eyes, light brown hair and wearing a green floral print long-sleeved blouse, green pants and brown sandals.
Anyone with information concerning Willis is asked to call CrimeStoppers at 955-8300 or *CRIME on a cell phone.
NEIGHBOR ISLANDS
Police seek clues in 1991 slaying Big Island police want help in solving the 1991 murder of a 16-year-old Puna girl.
The body of Jonelle Auna was found Oct. 24, 1991, in Kona.
Police said Auna was a runaway from Puna.
Anyone with information on this case is asked to call Detective Sharlotte Bird of the Kona Criminal Investigations Section at 326-4646, ext. 272, or the department's nonemergency number at 935-3311. Anonymous calls may be made to CrimeStoppers at 329-8181 in Kona or 961-8300 in Hilo.