---
MORSELS
Hawaii cookbook is now available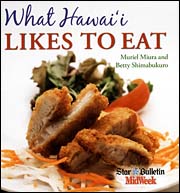 "What Hawaii Likes to Eat," a cookbook partnership of the Honolulu Star-Bulletin and Mutual Publishing Co., can now be purchased from 9 a.m. to 5 p.m. weekdays at the newsroom in Restaurant Row (Building 7, Suite 210) or at Mutual (1215 Center St., Kaimuki).
The collection of local favorite recipes was written by the Star-Bulletin's "By Request" columnist, Betty Shimabukuro, and veteran cookbook author Muriel Miura.
Through Oct. 1, the books will sell for $20, $8.95 off the cover price. They'll be available in bookstores on Oct. 15. Orders may be placed online at www.mutualpublishing.com.
A portion of each sale is donated to the American Heart Association's Hawaii chapter.
Call 732-1709.
Maui pays tribute to heritage of pine
To the young, pineapple is something that comes out of a can, or perhaps is served chilled and chunked in a bowl.
Lost on them is the richness and importance of Hawaii's pineapple plantation life. The Maui Pineapple Festival hopes to restore some of those memories.
The second annual festival takes place from 9 a.m. to 2 p.m. Saturday at Maui Pineapple Co. headquarters in Kahului, serving up pineapple dishes, plantation history, live music, games and cannery tours.
A pineapple cook-off and free pineapple dipping station are also offered. As for the food: Dishes such as Chicken Curry Sandwiches with Pineapple Salsa and Beef and Pineapple Kabobs show what can be done with the prickly pine.
Admission is free. Call (808) 665-3734 or visit www.PineFest.com.
Get a signature on your 'Puka Guide'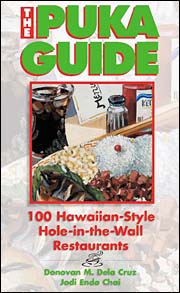 City Councilman Donovan M. Dela Cruz and his writing partner, Jodi Endo Chai, will sign copies of the new edition of their book, "The Puka Guide: 100 Hawaiian-Style Hole-in-the-Wall Restaurants":
Saturday: Borders Pearlridge, noon
Sunday: Borders Windward Mall, noon
Sept. 29: Borders Ward Centre, noon
Sept. 29: Borders Waikele, 2 p.m.
Oct. 6: Barnes & Noble Kahala Mall, 2 p.m.
Oct. 7: Barnes & Noble Ala Moana, 10 a.m.
High tech reigns supreme Sept. 30
How does one assemble a 16-Layer Chocolate in Paradise Cake? The technological details may be pondered at Flavors of Technology on Sept. 30 at the Sheraton Waikiki.
Or perhaps you could just eat it, along with the many other dishes to be served at the annual awards gala of the Pacific Technology Foundation.
On the menu: dishes from 17 restaurants and food distributors, including Chai's Island Bistro, Kona Brewing Co., The Tea Chest, Ruth's Chris Steak House, 3660 on the Rise, Sushi Supreme, Gokujo, Mariposa, The Colony, Stage, Chart House, Red Bull, Southern Wine & Spirits, Johnson Bros. and Icon Estates.
The event will recognize Energy Industries as Technology Company of the Year and Debra Pyrek of Title Guaranty of Hawaii as Technology Woman of the Year. Several other individuals and organizations will be recognized for their service to Hawaii's high-tech industry.
The event begins at 5:30 p.m., featuring dinner, silent auction and entertainment by Jasmine Trias.
Tickets are $95 ($40 tax deductible), to benefit technology education in Hawaii's public schools. Call 237-3673 or e-mail patty@hawaiipacificentertainment.com.
Enter Tabasco's cookbook contest
If your non-profit group put out a cookbooks this year, Tabasco is looking for you.
Entries in the 18th Annual Tabasco Community Cookbook Awards are due by Sept. 28, open to cookbooks published for fund-raising purposes in 2006 and 2007.
A donation of $2,500 will go to the charity that published the winning book. Regional awards are $500.
Entrants must provide five copies of their cookbook and documentation of how the proceeds help fulfill community projects. For entry forms and rules visit www.TABASCO.com.
Also, if your cookbook has sold more than 100,000 copies, regardless of when it was published, it can be inducted into the Walter S. McIlhenny Hall of Fame, for cookbook classics.
Cooking lessons
Cooking demo:
Chef Jason Miyasaki of d.k. Steakhouse will prepare Sweet Maine Lobster Salad and Surf & Turf Rolls, noon Saturday at Macy's Ala Moana, fourth -floor kitchen. Free. Call 945-5894.
"Tasty Tidbits: Soups to Warm the Soul": Sampling and recipe swap, 6:30 Tuesday, Kahuku Public Library. Bring favorite soups and recipe cards for sharing. Call 293-8935.