---
FAST FACTS HAWAII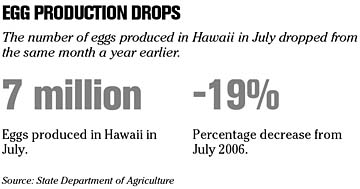 ---
HAWAII
Hale Koa workers retain union More than 800 hotel workers at the Hale Koa Hotel in Waikiki voted yesterday to retain Unite Here Local 5 as their labor union.
The Federal Labor Relations Authority in San Francisco announced that a total of 468 votes were cast in the union election, of which 350 voted to stay with the union.
The U.S. Army-owned hotel at Fort DeRussy last year joined Local 5, which represents nearly 12,000 hotel workers statewide.
NATION
Best Buy profits beat Street MINNEAPOLIS » Best Buy Co. Inc., the nation's largest consumer electronics retailer, said second-quarter profits rose 8.7 percent on strong international results and tighter spending controls.
The profit of $250 million, or 55 cents per share, easily beat the 44 cents per share predicted by analysts surveyed by Thomson Financial. During the same quarter last year Best Buy earned $230 million, or 47 cents per share.
Best Buy said quarterly revenue rose 15 percent to $8.75 billion, from $7.6 billion last year. Analysts were expecting $8.48 billion.
WORLD
China bank sets IPO record SHANGHAI » China Construction Bank, the country's biggest property lender, has raised 58.05 billion yuan ($7.7 billion) in mainland China's biggest initial public offering so far, state media reported today.
The bank, which already has shares traded in Hong Kong, priced its Shanghai share offering of 9 billion shares at 6.45 yuan ($0.86) a share due to record subscriptions.
The IPO far exceeded the 46.6 billion yuan raised in the Shanghai tranche of a dual share offering by the Industrial and Commercial Bank of China in October 2006.
Massive demand for shares, especially from retail investors, has helped push Shanghai's benchmark Composite Index up by more than 100 percent since the beginning of the year.
BRIEF CASE
Not so bad.
Lehman Brothers Holdings Inc., the No. 4 investment bank, said third-quarter profits fell less than expected -- down 3.2 percent to $887 million -- as stock trading and investment banking offset losses from the struggling mortgage market.
Guilty plea. Pioneering class-action attorney William S. Lerach agreed to plead guilty to conspiracy yesterday. Prosecutors said Lerach's former law firm paid people to sign on as plaintiffs in more than 150 lawsuits.
Liquidity, please. Countrywide Financial Corp. CEO Angelo Mozilo is calling on the government to do more to ease the credit crunch and help borrowers in distress. He wants higher limits on federal home loan banks that buy home loans from other mortgage banks.
---
[ HAWAII INC. ]
New hires / Promotions
» Stanford Hotels Corp. has announced the following new appointments to the Hilton Waikiki Prince Kuhio:
Viktor Schmidt
has been named executive chef of the hotel's MAC 24/7 restaurant. He previously served as executive chef at the Hilton Anchorage and has nearly 30 years of experience in food service.
Joan Simi-Dalton
has been named group sales manager. She previously served as regional sales manager for Smart Meetings Magazine and currently serves as a member of the Bay Area Business Travel Association and the Northern California Chapter of Meeting Professionals International.
» Castle & Cooke has hired Susan Yonemura as financial analyst. She will be responsible for monthly reports and assisting in cash flow forecasts and financial statistics. She previously served as assistant controller at Trane Co.
» Alexander & Baldwin has promoted Frank E. Kiger to general manager of Hawaiian Commercial & Sugar Co. effective January. He will replace G. Stephen Holaday, who plans to retire and will remain as president as president of agribusiness. Kiger currently serves as senior vice president of factory operations and has served as president of Kauai Coffee Co. since 1996 and at McBryde Sugar Co. for 20 years.
» Halekulani Corp. has named Denicia Trinidad as corporate director of human resources. She previously served as director of human resources for the Hawaii Prince Hotel Waikiki and has also served at the Westin Ilikai Hotel, Prince Kuhio and the Hawaiian Regent Hotel. She has more than 25 years of experience in human resources.
» Kauai Marriott Resort & Beach Club has named Jay Heidenreich as director of sales and marketing. He will be responsible for marketing, advertising and public relations, and strategies to increase leisure and group rooms and food and beverage sales. He previously served as director of sales and marketing at Princeville Resort.
» Hawaii State Federal Credit Union has announced the following new hires and promotions: Raymond Nakagawa has been hired as commercial loan manager. He previously served in commercial banking positions at Bank of Hawaii and American Savings Bank. Richard Cambe has been hired as consumer and mortgage loan supervisor. He previously served at Finance Factors. Tricia Buskirk has been promoted to corporate development and marketing manager. She previously served in management positions at Del Mar Database and Sharp Federal Credit Union in San Diego, City Bank and First Hawaiian Bank. Randall Enovejas has been promoted to marketing supervisor. He has nine years of marketing experience in the financial services industry. Hattie Foster has been promoted to supervisor of teller services at the Alii Place branch in downtown Honolulu. She previously served as a senior financial services specialist since 2001 and has served the credit union for 20 years.
---
BUSINESS PULSE