Downsize Big Isle project, says report
HILO » A monthlong study of residents of the remote Kau district south of Hilo has found that a majority favor some kind of resort facing the Punaluu black-sand beach, but they think a proposal for 1,050 homes and a 350-room hotel is too big.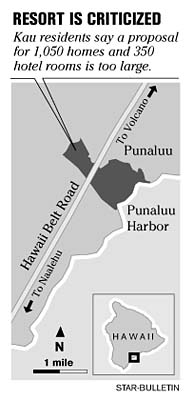 "People don't believe the community can absorb the growth," a two-page summary of the study says.
The proposal by developer Sea Mountain Five LLC has divided Kau residents for a year.
Hawaii County Managing Director Dixie Kaetsu said Mayor Harry Kim commissioned the $80,000 study because of distrust and animosity among residents. "It was really quite alarming," she said.
Kaetsu declined to call the study a "survey" because it went beyond the questionnaire style of gathering information, instead using numerous face-to-face discussions by seven staff members of county contractor James Kent Associates with about 500 residents.
The company called it a "listening project." The summary was released over the weekend, and the full study is being prepared for tomorrow's meeting of the Hawaii County Council.
A resolution awaiting a vote would authorize Mayor Harry Kim to negotiate with the developer to buy the seaside 150-acre portion of the 434-acre property, probably ending the project.
Kim has said he thinks the proposal is too big.
Sea Mountain managing partner Pat Blew responded, "Whatever is done there, it's got to make financial sense. It's going to take compromise from both sides." In the end, the resort might be bigger than the community would like and smaller than the developer would like, he said.
The study sharply criticized the group Kau Preservation, which is opposed to the resort. "The tactics and methods used to implement 'preservation' by Kau Preservation leadership created fear among citizens for their safety, and a reluctance to go to formal meetings where confrontation rather than (the local custom of) talk story is routine," the study said.
Kau Preservation spokesman Danny Miller said such comments have been used in the past by James Kent Associates to "defame and try to destroy grass-roots organizations."
He noted that Kau Preservation President Pele Hanoa was honored recently when Gov. Linda Lingle declared Sept. 1 "Winifred Pele Hanoa Day" for her efforts at rural preservation.