A double treat from ukulele master
Few local recording artists have risked diluting their sales by releasing two projects simultaneously. Karen Keawehawaii and hubby Jackie Farias did it when they released two almost identical albums, "With Love, Karen" and "Have a Merry Karen Christmas," in 1984. Sean Na'auao wisely targeted mutually exclusive audiences when he released a Jawaiian album, "Progression," and a traditional Hawaiian album, "Holomua," in 2001.
Jake Shimabukuro joins them with the simultaneous release of "My Life," a collection of six recordings of vintage pop hits, and the American version of the "Hula Girls" film soundtrack album.
"My Life" is a natural sequel to his last full-length album, "Gently Weeps." "Hula Girls" is his debut as the composer of a film soundtrack -- he wrote the film score as well as his own material.
---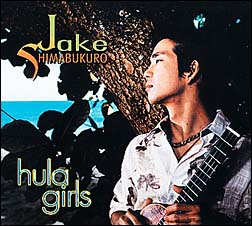 "Hula Girls"
(Hitchhike)
Jake-san took a big step forward when he accepted an offer to write the score for "Hula Girls," a Japanese film inspired by the early history of the Joban Hawaii Senta, a Hawaiian theme park that opened in 1965 in northern Japan. Although a limited number of "Hula Girl" CD-singles were distributed here when "Hula Girls" was shown at the Louis Vuitton Hawaii International Film Festival last fall, the soundtrack album, released in Japan last year, is a welcome addition to his discography.
The strongest tracks showcase his work as either a composer or musician. The ukulele tracks are exquisite, of course. "Heartbeat (Reprise)" captures his light touch and precise technique as a soloist, but pianist Michael Grande works solo in making "Heartbeat (Movie Version)" magical.
Two duets also stand out. Guitarist Jeff K sits in with Jake to make an instrumental arrangement of "Hula Girl" another soothing interlude. The interplay between Jake and slack-key guitarist Jeff Peterson is the key to an "alternative version" of "Walking Down Rainhill." A string quartet adds rich harmonic textures to "Touch."
It isn't all dreamy and introspective. Grande (keyboards), Randy Aloya (bass) and Garin Poliahu (drums) boost the energy when they back Jake on "On the Road."
Two vocal selections from the film -- local girl Jennifer Perri's renditions of "Hula Girl" and "Wish on My Star" -- evoke memories of pivotal moments in the story. A second version of "Hula Girl" is sung in Japanese by Miho Teruya.
Two songs that Jake had nothing to do with break the format and detract from the ambiance. Na Leo's 2005 vintage recordings of "Hawaiian Eyes" and "Local Boys" are so different in style and attitude that they belong on a different album.
---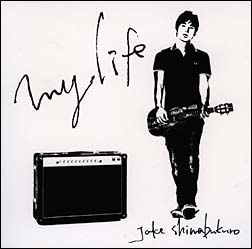 "My Life"
(Hitchhike)
Jake builds on two recent projects with this economically packaged release. His last full-length album, "Gently Weeps," featured his arrangement of a Beatles classic; this time he's done two. Jake appeared as a guest on his brother's recent six-song CD, "Bits & Pieces," and now Bruce returns the favor by playing guitar on the opening selection, "Time After Time."
Anyone who enjoyed "Gently Weeps" will enjoy "My Life" as well. Jake works solo on four of the six songs, and is again exploring the creative possibilities involved in letting each note "breathe," rather than emphasizing speed.
His arrangements of "In My Life" and "Here, There and Everywhere" are beautiful alternatives to the Beatles' definitive versions. His treatment of "Somewhere Over the Rainbow" finds new musical vistas in a melody that has been played to death here in recent years. Jake captures the song's original fairy-tale optimism with a tranquil arrangement that takes its time in developing the familiar melody. He then suggests the emotions that Judy Garland conveyed in the lyrics by playing more aggressively on a relatively short passage -- strummed rather than picked -- before he lets the melody slowly fade into a dream-like denouement.
It's beautiful work throughout.