BOOKSHELF
'Taxi Driver' takes turns
It used to be that going to see a movie in a theater was a special event. It was a time when directors explored complex subject matter and created serious films meant to spark debate and discussion long after the lights went up. There were no huge multiplexes showing a dozen or so movies that were depressingly similar in form, content and execution.
"Taxi Driver"
(Two-disc collector's edition)

Sony Pictures Home Entertainment

$24.95
This era, which began somewhere in the mid- to late 1960s and ended somewhere around the time that the "Star Wars" series got rolling in the early '80s, is now widely considered to have been the period when most of the best American films were made.
Directors such as Francis Ford Coppola, William Friedkin, Sam Peckinpah and Steven Spielberg began making some of the most thought-provoking and provocative films ever seen by a general audience. Among these directors was Martin Scorsese who, in the early '70s, was still in his late 20s. While Scorsese had only made two small movies by 1975, he and screenwriter Paul Schrader were about to make one of the most controversial films of the period. That movie would be "Taxi Driver."
And now one of Scorsese's most memorable films has gotten a well-deserved upgrade on home video.
The "Taxi Driver" two-disc collector's edition set has recently been released. The first disc contains the film in its original theatrical aspect ratio, along with a new feature-length commentary by Schrader, a commentary by professor Robert Kolker and an original screenplay "Read Along" feature.
The 1976 classic tells the story of Travis Bickle (Robert De Niro), a 26-year-old Vietnam vet who starts off reading from his journal about his work experiences. In a sad, confused and vaguely hostile voice, he tells of the grim business of picking up shady and often repulsive individuals in the middle of the night -- the losers, prostitutes and drug addicts that seem to be everywhere in nighttime New York City -- and how they take their toll on him.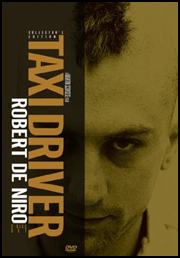 The world that Travis lives in is a cesspool, and the sheer moral rot of the place starts to seep into his troubled soul. He's unable to keep all of the horror and desperation of the streets out of his body and mind. His cab becomes a metal coffin, floating through rivers of filth.
One day, Travis suddenly sees what he comes to believe is his salvation amongst all the depravity. While driving his Checker cab one day, he spots a beautiful young woman, Betsy (Cybill Shepherd), a campaign worker for a local U.S. senator running for president. Travis works up the courage to ask her out for a date, and while it is obvious that she is totally out of Travis' league, she seems curious about this strange and somewhat awkward man.
Travis obliviously takes Betsy to a porn movie, which effectively ends the relationship before it gets started. Travis is crushed, and when he tries to repair the damage, he only makes things worse by stalking Betsy until he is thrown out of the campaign center where she works. From here, Travis' mental state takes a turn for the worse, further alienating him from all other normal human contact.
It is at this point that Travis meets Iris (Jodie Foster in her first serious role), an underage runaway and prostitute working the mean streets of the Lower East Side. Travis tries to talk Iris into leaving her dead-end lifestyle and return home to her parents in Pittsburgh. He seems to be trying hard to do something good in his life but again is rebuffed by women who are either uninterested in being "saved" or unimpressed by his well-meaning but confused intentions.
Somewhere along the line, Travis begins to hatch a plan that will end his suffering while at the same time empower his troubled psyche. When he buys weapons and practices his quick-draw in front of the mirror, muttering threats to his reflection, we know that he has finally become totally unhinged. The line, "You talkin' to me? ... Well, I'm the only one here," could easily be what sums up the entire movie.
By the time the end credits roll, the audience is left with more questions than answers. Was Travis insane all along, or did he slowly lose his mind after driving through the living hell of after-hours Manhattan? Is it possible that Travis was simply reacting to an environment that was equally insane? Is the line between madman and hero that thin? Did the people who ultimately became the victims of Travis' wrath deserve their fate? There are no easy answers.