---
FAST FACTS HAWAII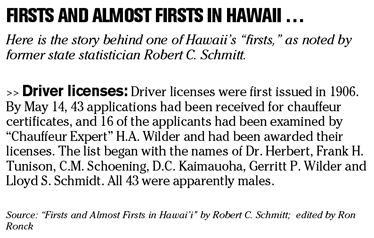 ---
NATION
Interviewers can blow it, too
A survey by consulting firm
Development Dimensions International
warns companies to pay more attention to how interviewers act, or else risk chasing away the best job candidates -- an especially big blunder in the current tight labor market.
The survey, undertaken with the online jobs Web site Monster.com, found two-thirds of nearly 3,800 job seekers reported that the interviewer was an important influence on their decision to accept a position.
The most offensive behavior, cited by 70 percent of respondents, was having an interviewer "act like he has no time to talk to me," the survey found.
Other top irritating behaviors were withholding information about a position, appearing unprepared, asking questions unrelated to job skills and talking about themselves.
Some examples: "What is the cost of the ring you are wearing?" "If you were a dog, what kind would you be?" and "What is your natural hair color?"
Casual attire gains in the office
Business casual is increasingly the wardrobe of choice among executives, a new survey has found. Almost 80 percent of executives prefer to wear more casual attire at work, and 62 percent said business casual is their standard workplace dress code.
"Bosses are much more concerned with the quality of your work than the price of your clothes," said Marc Cenedella, president of TheLadders.com, a job Web site for high-end professionals, which did the survey.
The trend appears to be catching on: 42.2 percent of executives said more companies are adopting a less formal dress code, and 22.3 percent said the definition of "business casual" has stretched to include attire such as jeans.
The survey also found that casually dressed employees are viewed as creative and fun, but run the risk of being taken less seriously.
But before you swap your three-piece suit for Levis, executives said formally dressed workers are perceived as more senior level.
The nonscientific survey was conducted online in August and included more than 1,100 executives who earn $100,000 or more annually and are members of TheLadders.com.
Video games popular at work
Coffee breaks and watercooler chitchat are out when it comes to office stress relief. Now, video games are all the rage.
Almost a quarter of white-collar workers play video games at work, and 84 percent say they feel more relaxed after indulging, according to a recently released survey.
Some workers admitted to gaming during business meetings or conference calls, but most played during breaks or intermittently throughout the day, according to the nonscientific survey by video game provider PopCap Games.
"To me, it's akin to doodling," said Garth Chouteau, a company spokesman. "You really don't use all the mental bandwidth you have when you're playing these games."
More than a third of higher-level executives admitted to playing video games at work, compared to 23 percent of other white-collar workers.
The online survey was conducted in June and included more than 2,800 PopCap Game users.
White-collar workers were identified as those in professional, clerical, middle management, technical and senior management fields.
Social Security numbers abused?
A national poll by Consumer Reports showed that 89 percent of Americans think state and federal lawmakers should pass laws restricting the use of Social Security numbers by businesses and government agencies.
The poll found that 87 percent of consumers had been asked in the past year to provide at least part of their Social Security number, often for purposes beyond credit, employment or tax compliance.
More than four in 10 Americans reported being asked to provide their number on the phone or Internet to access merchandise or services, or to verify their identity to a customer service representative.
The telephone survey included more than 1,000 U.S. adults and was conducted in August.
---
BUSINESS PULSE