| | |
| --- | --- |
| | Newswatch |
---
Korean War vet is to be reburied
The remains of a U.S. Marine missing from the Korean War have been identified and will be returned to his family to be buried with full military honors, a Department of Defense news release said yesterday.
Pfc. Carl A. West of Amanda Park, Wash., will be buried Oct. 4 in Arlington National Cemetery near Washington, D.C.
He was a member of Weapons Company, 1st Battalion, 7th Regiment, of the 1st Marine Division deployed near the Chosin Reservoir in North Korea. He died Dec. 8, 1950, in enemy combat.
Fellow Marines buried West, and his remains were later repatriated to Army officials, but officials cited discrepancies between the remains and West's dental file and physical characteristics. West was buried with the "unknowns" in the National Memorial Cemetery of the Pacific at Punchbowl.
In May 2006 the Joint POW/MIA Accounting Command exhumed West's remains and re-evaluated the skeletal and dental remains to identify him.
Commuter ferry has open house
The city will hold an open house for TheBoat, a long-awaited commuter ferry, at Pier 9 by the Gordon Biersch in Aloha Tower from 10 a.m. to 2:30 p.m. tomorrow -- a day before its first voyage Monday.
The public is invited to tour TheBoat, a 72-foot twin-hull catamaran that can hold up to 149 passengers, while ukulele players compete nearby at Aloha Tower Marketplace.
TheBoat will travel from Kalaeloa Pier to Aloha Tower Monday through Friday for an hour-long ride departing at 5:30, 6 and 8 a.m. The afternoon rides departing from Aloha Tower are at 4:20, 5:20 and 6:50.
Fares are $2, including two bus transfers, or riders can use their bus passes. The city also created new bus routes that will transport riders from Kalaeloa terminal to Makakilo, Kapolei and Waianae. From Aloha Tower, buses will go to the University of Hawaii at Manoa, Waikiki and Ala Moana Center.
El Nino brings more garbage
A new study shows that a significantly larger amount of marine debris washes ashore in the Northwestern Hawaiian Islands during El Nino years.
The study, "Factors affecting marine debris deposition at French Frigate Shoals, Northwestern Hawaiian Islands Marine National Monument: 1990-2006," looked at 16 years of marine debris data and compared it with known periods of El Nino weather conditions.
"Greater attention is being paid to the oceans and atmosphere and how they are affecting everything, from the environment to marine debris, to our economy," said Carey Morishige, outreach coordinator for the National Oceanic and Atmospheric Administration's marine debris program and lead author of the study.
The study focused mainly on smaller debris items -- excluding nets -- which can be eaten by wildlife, such as the Laysan albatross. Among 52,000 pieces of debris collected were buoys, bottles and plastic cigarette lighters.
| | |
| --- | --- |
| | Police, Fire, Courts |
---
Mainland fugitive is captured
A gang member accused of stripping and attacking a 14-year-old boy at a middle school in Tacoma, Wash., has been arrested in Waianae and is awaiting extradition.
Agents of the Hawaii Fugitive Task Force, led by the U.S. Marshals Service, arrested Filipo Fonoti, 20, without incident Thursday at a Waianae residence.
Fonoti and three other members of the East Side Piru gang are accused of stripping, robbing and beating the boy at McIlvaigh Middle School on June 17, 2005. The victim had to walk home naked. He was able to identify his assailants to the police.
Fonoti was charged with second-degree assault and first-degree robbery but fled before his arrest and had been on the run ever since. Deputy U.S. marshals in Tacoma heard recently that Fonoti might be living in Waipahu, and alerted the Hawaii Fugitive Task Force. Task force agents and Honolulu sheriff's deputies found him in Waianae.
The arrest was part of "Operation Falcon," in which federal, state and local agencies work together to catch fugitives charged with serious crimes.
NEIGHBOR ISLANDS
Fern Forest skull identified by lab
HILO » Big Island police confirmed that a skull found last year in the rural Fern Forest subdivision on the Big Island was that of Elizabeth Christensen, 74, missing in the subdivision since May 15, 2006.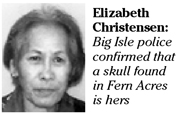 The skull was found by a neighborhood dog on July 26, 2006.
No other part of the woman's body was found, and the skull did not give any indication of the cause of the death.
The skull was sent to the University of Northern Texas for DNA analysis, and results were returned recently confirming the person was Christensen.
Foul play is not suspected, but anyone with information should call police at 961-2379 or CrimeStoppers at 961-8300.
3 on Big Isle face charges over 'ice'
HILO » Big Island police said they charged three people with possession of crystal methamphetamine, arrested and released a fourth person and seized a quarter-ounce of the drug in two separate cases this week.
On Tuesday, Peter K. Mahi, 33, and Maria L. Spencer, 35, were arrested at their home in the Panaewa area of Hilo when they were found with 1.5 grams of methamphetamine and drug paraphernalia.
They were charged with several drug counts and are being held in lieu of $26,000 bail each.
A 35-year-old man in the house was released pending investigation.
On Thursday, police arrested Erica G. Perreira, 56, at her home in the 100 block of Kaumana Drive when she was found with 6.2 grams of methamphetamine, 48 grams of marijuana and drug paraphernalia. She was charged and is being held in lieu of $11,100 bail.
Police seek man in sexual assault
HILO » Big Island police are asking for the public's help in locating Hauoli "Ikaika" Silva, 20, wanted for the sexual assault of an underage girl last year.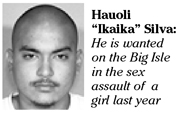 Silva is described as 5 feet 11 inches tall, 200 pounds, with brown eyes and short black hair.
He is known to frequent the Puna area but could be in Kona, police said.
Silva is considered armed and dangerous and should not be approached, they said.
Anyone with information about him should call Detective Benton Bolos at 961-8883 or CrimeStoppers at 961-8300.
EAST OAHU
Officer says he had to dodge pair
Police arrested two shoplifting suspects Thursday after one of them allegedly tried to run over a police officer.
Police said that at about 2:15 p.m. a 33-year-old man and a 34-year-old woman were trying to steal items from a grocery store in Hawaii Kai. The suspects abandoned the goods when an employee and an off-duty police officer intervened.
Police said the officer identified herself and ordered the suspects to stop. The suspects got into their vehicle and allegedly drove at the officer, causing her to jump out of the way.
The man was arrested on suspicion of attempted first-degree murder, while he and the woman were also arrested on suspicion of second-degree theft. There were no injuries.
HONOLULU
Man allegedly rapes girlfriend
Police arrested a 30-year-old man who allegedly sexually assaulted his 30-year-old live-in girlfriend.
Police said that the suspect instigated an argument with the woman last Saturday, assaulted her and raped her at their Nuuanu home.
The woman reported the incident to police on Thursday. Police arrested the suspect for investigation of first-degree sexual assault and abuse of a household member.
41-year-old man arrested after fight
Police arrested a 41-year-old Pawaa man after he allegedly punched a woman in the mouth, breaking her teeth.
Police said the man and the 48-year-old woman, who are neighbors, got into an argument, during which he punched her.
Police were called to 1608 Kalakaua Ave., where the man was arrested for second-degree assault. The woman was later taken to a medical facility for treatment, police said.
Man is arrested in assault of officer
A 23-year-old man allegedly assaulted a police officer who was trying to help him up off a roadway.
Police said the man was lying in a major intersection on Ala Moana Boulevard at about 4:55 a.m. yesterday when the officer tried to help him.
The man got up and allegedly punched the officer several times. The officer received contusions to his head from the assault and abrasions from wrestling with the suspect.
The suspect was not injured, but was taken to a Honolulu hospital for treatment from being pepper-sprayed. He was arrested for first-degree assault on a law enforcement officer.
LEEWARD OAHU
Man charged over firing of handgun
A 60-year-old homeless man who allegedly fired a handgun in a Nanakuli townhouse complex was charged yesterday with various crimes but not attempted murder.
David K. DeLima was charged with first-degree terroristic threatening, first-degree reckless endangering and a weapons violation.
DeLima and a 49-year-old Nanakuli man were arrested Wednesday afternoon on suspicion of attempted murder.
DeLima is being held in lieu of $50,000.
The other man was released pending further investigation.
Police said DeLima and the other man allegedly were looking for a 39-year-old man at the home of a 26-year-old man.
Police said DeLima pointed the gun at the younger man, but he fled his home and ran downstairs. DeLima allegedly fired at him, striking an upstairs window of an unoccupied room above the victim.
DeLima and the other suspect fled in a pickup truck and were caught within a half-hour.